Home > India > Movies > Interviews


Discuss |
Email |
Print | Get latest news on your desktop

The Rediff Interview

The Ishmeet I Knew

August 12, 2008


| | |
| --- | --- |
| Shweta Subramanaim | |
| | |
| | |
| | |
| | |
| | |
| | |
Even two weeks after 19-year old singer, Ishmeet [Images] Singh passed away, his friends cannot get over the talented Amul Star Voice of India [Images] winner.
Shweta Subramanaim, an Indian Canadian playback singer, who made an appearance in Voice of India, knew Ishmeet closely before he drowned in the Maldives [Images].
She re-lives Ishmeet's memory.
The first time I met Ishmeet, I asked him the meaning of his name. 'Ishwaar ka meet houn -- Ishmeet, aur jo Ishwar ka meet hota hai woh sabka meet hota hain [I'm God's friend and a friend of God is everyone's friend],' he explained. Ironically and
sadly, my dear friend Ishmeet is no longer amongst us. Every day I sleep by pacifying myself that he could not have asked for a safer abode than going back to God. Ishmeet was a simple and modest person with huge dreams to become a playback singer. He always told me that he did this for his family and himself.

When I met him during the training sessions at Voice of India, he was very quiet and kept to himself. He was unlike other contestants, who would play pranks and crack jokes. Ishmeet always kept his focus on music. But he cherished his few close friends like Karishma, Bhanu, Priyani and me.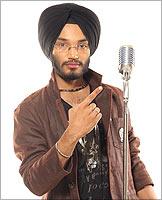 The first song that I remember him singing was Chand Sifarish (Fanaa [Images]). He was a huge fan of Shaan [Images], which was evident from the songs he selected for the competition.

I remember how he was feeling unusually low one day. I asked him what was wrong, and he said 'Mummy papa ki bahut yaad aa rahi hai aur mujhe pataa nahi hai ki main is competition mein kahaan tak pahchoonga. [I miss my parents, and I'm not sure how far I will reach in this competition].
He told me that he put his education on hold and rebelled against his parents' wishes to be part of this competition. Becoming an established singer was his dream and music meant everything to him -- winning Voice of India meant everything to him. And he was very determined.
During the finale, the whole country was caught between the singing sensations from Uttar Pradesh [Images] [Harshit Saxena [Images]] and Punjab.
Ishmeet's interview to rediff moments after winning VOI
I remember Ishmeet telling me that his family and the whole of Punjab did everything possible to make sure that he won the title.Voting stalls with huge banners with Ishmeet's photograph were put in front of gurudwaras and even rikshawallahs with a cell phone was encouraged to vote for Ishmeet. 
I was keen to see whether fame and adulation would steal the friendship Ishmeet and I shared. Obviously, after winning the title, Ishmeet got swamped with shows and projects and it was almost impossible to get a hold of him.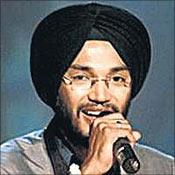 One fine day I received a call from Ishmeet and his first words were 'Arrey yaar tum doston ko bhool hi jaati ho [You forget your friends].'
That was certainly an ice-breaker. We started talking again, refreshing our Voice of India memories and the way our lives changed since then. As we were talking, I asked Ishmeet where in Mumbai he was staying. To my surprise, he lived in the same complex as me! I still remember that phone call. We couldn't stop laughing about how we had no clue that both of us lived in the same complex and never ran into each other. As soon as we realised how close we were, we ran out of our respective apartments and met up. We had so much to catch up on.
Ishmeet proved his friendship to me in many different ways. I once asked him to sing for a wedding reception and he happily came over. He even posed for photographs with the guests, and signed autographs.
I will always cherish the dinners we had together, the walks along Juhu beach, our endless conversations about his family, his passion for music...He was a gem.
I know the world will miss Ishmeet's warm, down-to-earth, soft-spoken personality.


As told to A Ganesh Nadar
Email |
Print | Get latest news on your desktop