Home > India > Movies > Interviews


Discuss |
Email |
Print | Get latest news on your desktop

The Rediff Interview / Vipul Amrutlal Shah

'The audience loves Akshay in any look'

August 06, 2008


| | |
| --- | --- |
| Vipul Amrutlal Shah | |
| | |
| | |
| | |
| | |
| | |
| | |
Even as Akshay Kumar [Images] promotes his new film Singh Is Kinng [Images] in Canada [Images], its producer Vipul Amrutlal Shah keeps his fingers crossed.
Directed by Anees Bazmee, Singh Is Kinng will release on August 8, and Shah has a lot of expectations from the film. He talks to Patcy N about one of the most anticipated films in the year, his relationship with Akshay, and more.
Why did you choose to produce a film for another director when you've directed three hits in a row?
I wanted to widen my horizon and was planning to turn to production when Akshay Kumar and Anees Bazmee came to me with the idea of Singh is Kinng. I liked the idea very much but Anees wanted to direct it. So I took them on board.
Why Anees Bazmee?
Why not Anees Bazmee? He has given so many hits. I like his comedies. His films are not a string of jokes but they have a proper story as well.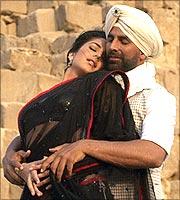 How true is the rumour that Anees would write the scene the night before its shoot?
That is not true. We had the full script ready. But then, Anees believes in improvisation on the sets, so even though we had the script ready, he would change it the previous night, according to that day's shoot.
Did the director in you want to make any changes in the film?
I think if you are not ready to produce the film, you should not. As a director, I can only give suggestions. But it is up to Anees whether to accept it or not. You can't take a director on board and whip him and tell him to do what you want. Besides, Anees is a pro in this field.
Didn't you feel you were taking a risk by making Akshay wear a turban throughout the film, something the audience isn't used to? Do you think his new look will be accepted?
We are getting a very good response. I think audience loves him, in any look. I don't think his look will create any problem for the film or for him.
You share a very close bond with Akshay. He is a part of most of your films.
Akshay and Anees approached me with this film. Since Anees already had Akshay in mind, I did not want to change it. But my next film, London [Images] Dreams, has Salman Khan [Images] and Ajay Devgan [Images]. Salman came to me with this story idea that I liked it and I'm developing it. It's not that I work only with Akshay. Which actor do you can could have played in Akshay's role in Namastey London and Singh is Kinng better? He justifies the roles best.
This is your second film with Akshay and Katrina Kaif [Images].
I took Katrina because the role demanded her. Namastey London was about a girl living in London, and Katrina fit the bill. Plus, I think she has tremendous potential and is very attractive. Her chemistry with Akshay is superb.
You showed your film to the heads of the Sikh community. Was that necessary?
Anees and I do not know everything about the Sikh community. So it was necessary to show the film to the heads to avoid confusion later. 
But newspapers reported that the Sikh community was annoyed with certain aspects of Akshay's look?
The media says anything. Today, there was a story in the newspaper that Akshay Kumar and I had a fight over Singh Is Kinng.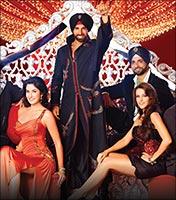 Did you?
I was just talking to him before this interview. I don't want to comment on the media sensationalising news
Why are you not doing films with Amitabh Bachchan [Images] these days? You started with Akshay and him, but he is not part of your films anymore.
Amitabh is a legend, and my favourite actor. But that does not mean that I cast him in all my films, even if the role is not worthy of him. If there is a role that Amitji should play, I will surely approach him.
Tell us about your forthcoming film, London Dreams.
It is too early to talk about it. Only Salman and Ajay have been finalised. We are still developing the script.
There have been reports of Katrina and Priyanka walking out of London Dreams, and Asin joining the cast.
It's nothing like that. When I became a part of the project, talks with Katrina and Priyanka were over. The heroine's character is a South Indian, so who better to have than Asin?
What are your expectations from Singh is Kinng?
I have a lot of expectations from this film. I have my fingers crossed and think it will do well, based on the responses we are getting.
Email |
Print | Get latest news on your desktop