Home > India > Movies > Southern Spice


Discuss |
Email |
Print | Get latest news on your desktop

Meet RGV's new 'find'

R G Vijayasarathy | August 05, 2008 14:06 IST


| | |
| --- | --- |
| Sudeep | |
| | |
| | |
| | |
| | |
| | |
| | |
Ram Gopal Varma is known for his proteges. However, his new find in his upcoming horror film, Phoonk [Images], is quite well-known in Kannada films.
After the success of his earlier Kannada films like Mussanje Maathu, Sudeep will make his debut in Bollywood. The actor is also ready with his forthcoming film, Theertha -- which is directed by Sadhu Kokila -- and is all set to start on Veera Madkari, where he will be seen in a double role for the first time. 


But back to Phoonk. Sudeep promises the film is scarier than RGV's earlier horror film, Bhoot. "Varmaji has already said that the film is scarier than all his previous films. I am sure that this film may spark off a debate on black magic," he said. 
So what is his role in the film?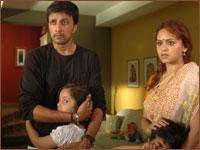 "I play Rajeev, a construction engineer with a wife and two children. I play an atheist, who seeks a scientific reason to explain the baffling happenings in his house," Sudeep said. "Though I am not a confirmed atheist in real life, I did not face any difficulty portraying the complex character on the screen. The credit for this goes to Varma because he had briefed me about the role."
How was his first Bollywood experience? "I thought that work discipline and priority to the time management would be the first two casualities when I start working in Hindi films. But with Varma in charge, everything worked out perfectly. He had taken my dates well in advance and everything connected to the shooting was precisely implemented. There was no confusion about the way the shooting progressed. Plus, Varma knew exactly how to shoot the film," he concluded.
Email |
Print | Get latest news on your desktop