Big B's plans for Ash, Abhi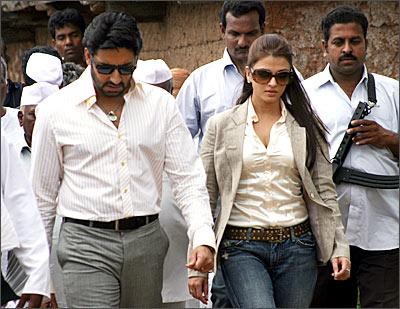 This is a first of sorts for Bollywood's famous couple.
April 20 will mark the first year of marriage for Abhishek Bachchan [Images] and Aishwarya Rai [Images] and Sarkar Raj, their first film together after marriage.
The couple will not be in Mumbai to celebrate their first anniversary. Abhishek is shooting for Dostana in Miami [Images] while Ash keeps him company.
But Amitabh Bachchan [Images] is making sure the media back home get a chance to wish them. He has arranged a live video conference on April 20.
Amitabh has also asked Sarkar Raj director, Ram Gopal Varma to create a special look for the event.
In the picture: Abhishek and Aishwarya in a production shot from Sarkar Raj.