Home > India > Movies > Interviews

The Rediff Interview

'Gaja is the biggest hit of my career'

April 17, 2008



Darshan is known as the Kannada film industry's 'mass hero'. True to his image, his recent film Gaja will complete 100 days this week. The film has turned out to be the biggest hit of the year.

In his next film Indra, the actor is playing a double role for the first time. The usually media shy actor spoke to R G Vijayasarathy about Gaja and his future projects.

Gaja will complete 100 days this week and the film has turned out to be the biggest hit in your career. How do you feel about it?

Yes, you are right. It is the biggest hit of my career. There is a feeling of extreme satisfaction now that the film has become a blockbuster.  

However, I had my own apprehensions about the film before its release. Last year my films didn't do so well so I was worried about the reception to my latest film. Luckily, the openings were huge, way better than those of my previous films like Shashtri and Ayya.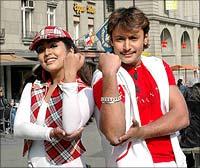 I got instant feedback from my fans during a live chat organised by a television channel. The fans were jubilant and even repeated the lines from the film. I was sure then that the film would be a hit, but was not sure how big it would be. 
In the first week itself, Gaja collected more revenue than Shashtri in all the major city centres. 
What are the factors that worked for Gaja?
I think the script was very good. As you know, the film is a remake of the Telugu hit Bhadra. I told the producers that the Kannada version should be as good if not better. They took me on my word and spent a lot of money on the film.
Though Maadesh was a first time director, he has done a great work.  Harikrishna composed some amazing tunes. Before the release of the film's music, all of us thought Maathu Nannolu and Aithalakkadi would top the audio charts as they were shot well in Switzerland [Images] but all the songs became hugely popular. The favourite now is Bangaari Yaare Nee Bul Bul.
Many in the industry feel your comedy worked well with the audience... 
That was because the comedy was well written.  As for delivering the dialogues naturally, the situations suited perfectly. Komal helped me a lot in the comedy scenes. As usual Master Hirannaiah sir was brilliant in his role.  Everything just fell in place.  I am happy that my efforts in comedy worked because some people see me as a street fighter. 
You are playing a double role in your next film Indra which is now ready for release. Can you speak about your two roles in the film?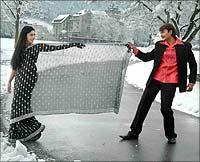 I would like to set the record straight. Though the producer and director of the film may not like it, I have to say that Indra is the remake of the Tamil film Arasu, which had Sharath Kumar in the lead. 
I speak in different accents in these two roles, besides donning two different get ups. There will be action, dances and comedy.  
You are working for two films simultaneously now. How do you plan their release?
Navagraha, which is produced under my banner, will be the first release. Arjun will be released later. I am working in Arjun solely because of my friendship with Jayanna, who has distributed many of my films. He has always been with me in good times as well as bad.
Navagraha is being produced under my home banner and is directed by my brother Dinakar. The first film from our banner, Jothe Jotheyalli, which was directed by my brother, was a silver jubilee hit.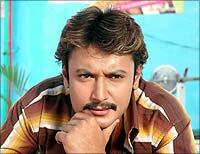 He wanted to make his next film with me in the main role but had to wait for nearly three years because I had no dates to spare. Dinakar has done a fantastic work in getting a good script.
We have the sons of six famous villains working in this film including me. As you know, my father Toogudeepa Srinivas was a popular villain in Kannada.
The story of Arjun revolves around the confrontation between a father and a son. I am again donning the police uniform in this film. 
What are the future projects that you have signed on?
I have agreed to work in the films to be produced by Babu Reddy, Shankare Gowda and Ramesh Yadav. I have also signed a contract with Pyramid Saimira to work in one film a year in 2008 and 2009.