What SRK's Billo Barber is all about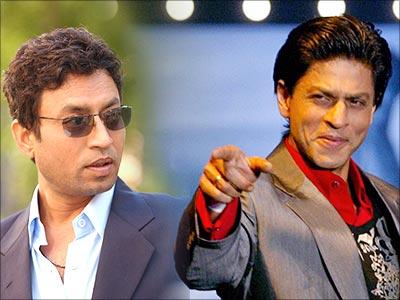 We have all heard about Shah Rukh Khan's [Images] new film, Billo Barber, to be directed by Priyadarshan [Images].
The director dips into the pool of Malayalam cinema for inspiration once again. This time, he picks last year's hit, Kadha Parayumbol, starring Sreenivasan and Mammootty.
Irrfan Khan [Images] will reprise Sreenivasan's role, while SRK [Images] will take up Mammootty's part.
Here's a preview of the film, and what you can expect from it.
The story is set in today's day and age. Billo (Irrfan Khan) plays a village barber. His business is running low because he has not been able to upgrade himself according to the changing trends.
One fine day, a film unit visits his village to shoot a movie. It stars a superstar (SRK), who was once Billo's school friend. All at once, Billo's status in the village changes, and he becomes highly respected.
Everyone wants him to meet the superstar. But Billo is unsure, as he feels he cannot compare to the superstar's status. Besides, he fears that the star may not recognise him.
Since the film is made in Bollywood, Shah Rukh Khan will romance three girls -- Kareena Kapoor [Images], Deepika Padukone [Images] and Priyanka Chopra [Images]. Juhi Chawla [Images] will play Billo's wife.
The shooting for Billo Barber started on April 8 at Mumbai's surbuban Film City.