Home > India > Movies > Reviews

Plenty of steamy scenes and sexy girls in Bhram

Ameeta Gupta | April 04, 2008 20:36 IST


| | |
| --- | --- |
| Sheetal Menon | |
| | |
| | |
| | |
| | |
| | |
| | |
After the thriller Race, comes another suspense film, Bhram. Only this film does not brag of a stellar cast like Race. Despite that, Bhram holds its own.
Bhram is Pawan Kaul's second directorial venture after his first thriller, Sssshh..., and stars Dino Morea, Milind Soman, Sheetal Menon and Simone Singh.
Shantanu (played by Dino) is on a mission to locate the mysterious Indra, a man from his sweetheart Antara's (played by debutante Sheetal Menon) past to find out what crime he had committed that almost ruined her life.
The film keeps shifting between the present and flashback scenes. We see the tortured damsel in distress Antara, and Shantanu, her knight in shining armour. Everything seems to be going well until the intermission. And that's where we see the first threads of suspense.
The second half is faster and works better than the first. Secrets are revealed, illusions are shattered, and we begin to see people for what they really are.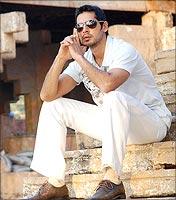 Dino and Sheetal do a good job. Milind, who plays Shantanu's brother, does not have much screen time. Simone, playing Milind's wife, has great screen presence and turns in a natural performance.
Her scenes with Dino in the first half -- the lovable bhabhi-dewar banter -- is like a breath of fresh air.
Music has been composed by Siddharth-Suhas and Pritam Chakraborty. Jaane kyun tanha ho gaye and Meri Akhiya are good numbers, the rest don't match up.
Director Pawan Kaul has put in a lot of effort, and it shows.
On the surface, Bhram has a lot going for it -- plenty of steamy scenes, sexy women and gorgeous men -- but there's only so much that you can take of them. The film has many plots and twists, but does not grip you as it should.
Rediff Rating:

Want to see this movie? Check out Rediff Movie Tickets!