Home > Movies > Interviews

The Rediff Interview

'I know my performance will be compared to Vikram's'

R G Vijayasarathy | September 11, 2007



Starting his profession as a lyric writer and a clap-assistant, 'Real Star' Upendra rose to the top position in Kannada films as an artiste who can work in all the departments of filmmaking.

No wonder Dr Vishnuvardhan described him as an asset to Kannada film industry. His films like OM, A, Upendra, Shsh, etc show that he does not confirm to the stereotype.

As his next Kannada film Anaatharu, a remake of the Tamil film Pitamahan gets ready for release on the eve of Ganesh Festival, Upendra speaks on the film and his role (which won Vikram a National award). Excerpts:

What would you like to tell about Anaatharu?

I know expectations are high but it is always better for the audience and the critics to judge the film after its release. One thing I can say about my experience is that it has taken a toll not only on me but my co-star Darshan, and all the other artists and technicians. 

You are acting the role that won Vikram a National award. Did it put you under any pressure?

Yes, pressure is always there when you are working in a film as a director. On the other hand, I am relaxed as an actor. But when I started working on this film, I was certainly under a lot of pressure though I am only an actor.

Thankfully there were long gaps between the shooting schedules, which eased the pressure somewhat. I was only able to relax and concentrate on my role when we started working on the third schedule.

Sadhu Kokila (the director) says this performance will be a milestone in your career. What do you say?

I would not like to say anything about my performance. It is better for the people to judge. I know my performance will be compared to Vikram's by all those who have seen the original. Still I accepted the role because it is very challenging.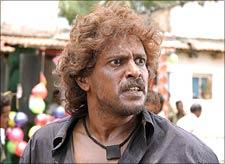 Did the long gaps between the shoots affect your performance?
We had no other alternative. Darshan was very busy.I too was busy. Sadhu forgot that he was an actor and refused many acting offers mainly to adjust the shooting schedules of this film. All the three of us fell ill before we started shooting, and we had to cancel shooting many times. But both Sadhu Kokila and Munirathna (producer) were very understanding and did not complain.
Thankfully, once I was ready with the make up, I was a transformed person.
Your foray into the Telugu films has surprised many. You are acting in negative roles in Telugu films.
I want to make it clear that I am not doing any negative character in Telugu. I had earlier worked in Priyadharshini Ram's Toss. He came all the way to Bangalore with the offer and refused to go back till I said 'yes'. He told me he had me in mind when he wrote the script. The script was inspiring, but I had a lot of acting commitments here.Ram was prepared to wait. And he waited for me and shot my portions when I was free. My role in Toss was well appreciated, but I somehow feel Ram's narration did not match with the final product.
Then there was this offer for a Tamil film with Vishaal. Though it had a fantastic script, I excused myself. The offer came back again and I was told they have decided to make the film in Telugu.
What are your current and future projects in Kannada?
I am working as a super hero in S V Rajendra Singh Babu's Bhimoos Bang Bang Kids. It is a mix of Spiderman and James Bond [Images]. I am working with many kids in the film. Computer graphics and other technical inputs will be the major attraction of the film.
I have just now completed Lava Kusha where I am teamed up with Shivaraj Kumar. Working with Shivanna is always a pleasure. He is one actor who still remains my best friend.