Home > Movies > Report

Amit Paul to jam with US band

John W Thabah | October 26, 2007 16:15 IST



He may have lost the Indian Idol [Images] crown to Prashant Tamang, but Amit Paul isn't doing so bad either.

He is all set to perform in his hometown at the 'Festival of Rock: Shillong'' with Eric Martin, the frontman of American hard rock band, Mr Big, on October 27.

"I am happy to be a part of this concert and to sing alongside Eric Martin," Amit said, adding that it will be a moment of pride for him.

Meanwhile, the American-born singer arrived in the city on Thursday evening along with his new Argentinean band members  Charlie Giardine (bass guitar), Christian Vida (guitar) and Pahlo Garrochi (drum sets).

This will be the singer's first live performance in India.

But why Shillong?

Eric says he had heard about the city and the people's love for music from another American rock band, Firehouse, when they had performed in the city.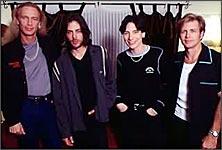 ''I have heard from C J Snare, lead vocalist of Firehouse, about the music-loving people of Shillong and we found it to be a beautiful place. We will be keeping this experience in our hearts forever,'' the lead vocalist said.
The capital of Meghalaya is emerging as a hot destination for international music bands with recent performances by Petra, Fire House and Michael Learns to Rock.
Also performing at the concert is local rock band Snow White. The band's lead vocalist Timmy Kharhujon will render his fine vocal cords in a duet with Eric Martin in a duet of Mr Big's hit Wild World.

"I know it's going to be one of my most memorable moments and I'm going to give it my best shot," Timmy said.


The concert is presented by Centre Point Entertainment Network in association with Aircel and will kick off at the city's Jawaharlal Nehru Stadium from 4 pm onwards.