Home > Movies > Interviews

The Rediff Interview

'I have fallen in love with Hyderabad'

October 25, 2007


| | |
| --- | --- |
| Amrita Rao in Athidhi | |
| | |
| | |
| | |
| | |
| | |
| | |
Amrita Rao's first foray into Telugu films was an eye-opening experience for her.
The Bollywood actress who has acted in the Shah Rukh Khan [Images] starrer Main Hoon Na and Vivah [Images] opposite Shahid Kapur [Images] made her debut opposite 'Prince' star Mahesh Babu [Images] in Athidhi.
In this exclusive interview the actress tells Radhika Rajamani about her growing love for Hyderabad and the experience of watching her first Telugu film in a theatre.
The experience of seeing my first Telugu film in the theatre with the audience was one of the most unusual treat to my eyes. We went to the theatre in a group for the noon show. Manjula (Mahesh's sister) and Namrata (Mahesh's wife) were with me along with Mahesh. We had ample security so we felt quite safe. I saw the whole film. During the interval some of the viewers clicked photos from their cellphones and called me by my name. 
We literally saw people celebrating the film; they threw confetti and screamed every time an actor appeared on the screen. There would be a roar every time a song started.
For me, it was just one of the most fascinating experiences because in Bombay they don't do that even for the biggest stars. It is something unique to the south, the way people look up to actors and worship them and literally celebrate their film.
This gives me a sense of greater responsibility as an entertainer and it just makes us believe that we need to put in more than a 100 per cent for every shot.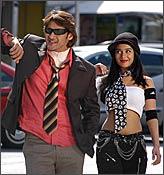 Athidhi is a visual delight. When people watch a film, they see the hero and the heroine and usually come out thinking that these are the only two people who have worked in the movie.
But in Athidhi the director's and the technicians' work shine through. Surender Reddy kept telling me not to worry. 'I am going to add some effects,' he would say. I kept hearing this word `effects' throughout the making of the film. But it was only when I saw the film in the theatre that I realised he had envisioned far-far more than we could have imagined in terms of technicalities. Hats off to him.
Dance in south Indian films
Dance steps in south Indian films are more challenging than they are in Hindi films (where the biggest of stars go in for rehearsals before they actually shoot). But in Hyderabad I found out that the actors directly land on the sets and start learning the steps. It was hectic for me initially but it' has been quite an experience. I am impressed at the way the heroes go for such difficult steps. Mahesh would sit and observe the steps and then perform them effortlessly.
Charminar trip
I must also talk about my trip to the Charminar. I went to Charminar wearing a burqa with my whole group. We reached around 5pm and were there till 8 pm. It was beautiful with all the stalls glittering with lights. Since it was the month of Ramzan, there were so many people on the street and I literally walked with them. I went to the choodi bazaar (Laad bazaar), bought lots of bangles and coloured stone chains. It was quite an experience for me.
It was fascinating just being there.
The view from Charminar was very beautiful and I saw the whole city laid out in front of me. We were there for about 20 minutes or so. There were so many burqa-clad women that the team members kept an eye out for me in case I got lost.
I was so tempted to buy the Hyderabadi mehendi and beautiful materials. There were a lot of salwar kameezes but I felt one has to have an entire day to shop.
Shooting in Hyderabad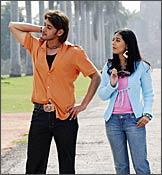 I think this year Hyderabad has suddenly become a part of my destiny. We started the shoot of Athidhi at the beginning of the year in Delhi. Since then I was in Hyderabad almost every month. To top it all, even Shyam Benegal [Images] also shot his film Mahadev in Hyderabad.
So somewhere I think I have developed a great rapport with the city, its people and now I follow a smattering of Telugu.
I love the food. Andhra food has coconut sprinkled in it like Mangalorean food although it's spicy. I liked the curd rice with the tadka. Hyderabad is a hot city, with hot food and hot people!
While I was there, I personally went with my dressman Konda and sourced outfits from Hyderabad Central. I took that experience as a great learning opportunity. Shopping is great in Hyderabad and is better than in Mumbai. People recognised me and some even come up to me and asked me 'Hey, are you Amrita?'. Some even took my autographs.
I went by boat to the Buddha statue in the middle of the Hussain Sagar lake. It was a week-day at around noon, so there were a few people around. It was fascinating to see the 'Eat Street', a popular hangout for teenagers because in Mumbai we have the Marine Drive, Worli Sea Face, Bandstand, Juhu beach but we don't have anything like the 'Eat Street'.
All in all Hyderabad is a beautiful city. I think I have fallen in love with it.