Of Om Shanti Om, fashion, and quips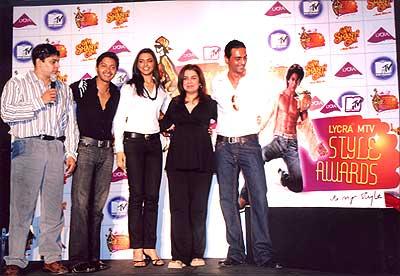 Shah Rukh Khan was missing in action but the rest of the Om Shanti Om team made up for his absence at the press meet to announce the tie-up between MTV Lycra Awards and Farah Khan's [Images] new film.
To make up for SRK's [Images] absence, Arjun put his arm around an SRK cut-out! Incidentally, he and Deepika Padukone [Images] were asked to wear white shirts.
Shreyas Talpade [Images] joked that his knowledge of fashion was zero. "I only hear what Farah tells me to do," he grinned.
Host Cyrus Brocha chimed in, "What about your wife? Don't you take her advice for dressing up?"
"Yes, I do. I listen to her one day. And the next day, I listen to Farah," Shreyas laughed.
Funnyman Cyrus tried his best to make a bakra out of Arjun Rampal [Images]. He insisted that the actor was unzipped, causing him much embarrassment.
The MTV Lycra Awards will be held on October 25.
Photograph: Pradeep Bandekar