Home > Movies > Interviews

The Rediff Interview

50 Happy Days

Radhika Rajamani | November 19, 2007



Sekhar Kammula's Happy Days, a simple tale of eight students and their four years in engineering college has captured the audience in a big way, doing phenomenally well in the United States and Andhra Pradesh. The feel-good Telugu film is completing 50 days on November 20 and is turning out be the biggest blockbuster of 2007.

Sekhar is indeed overwhelmed by the films success but is unfazed and has his feet on terra firma. Before he is off to the United States for a well-deserved short break and to celebrate the 50 days of Happy Days in Dallas, rediff.com caught up with him to chat about the film.

Also Read: 'Happy Days' are here again!

Happy Days is perhaps the biggest hit this year. Did you anticipate this success?

I thought it would be a hit but never expected this kind of success. I expected 100 per cent success in cities and big towns. I never anticipated it in B and C centres. It is a one- in-a-decade response. I am more than happy.

What are the reasons you attribute to this success?

I stuck to my kind of filmmaking. I did not alienate the family audience by showing vulgarity, sleaziness or slapstick comedy. Instead, I gave a serious picture of students. I wanted to break the misconception that student films don't cater to the family. Happy Days worked out. I represented students in the right way and there was honesty in every thing I did.

Why are you celebrating the 50 days function in Dallas? Is it because Happy Days was released in the US first?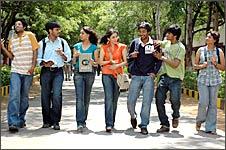 Normally the 100-days is celebrated. Since my friends are there (Sekhar studied and worked in the U.S.) I thought of meeting them and it coincided with the 50 days of release of the film. I will be visiting theatres there. The distributors in the US have planned some competitions of meeting the actors and so on.
Would you be celebrating the 100 days function in Hyderabad?
Yes, it will be a grand event. The response to Happy Days has been unprecedented and has spread like a wild fire. Prasads multiplex has been having five shows.
You have been busy talking about the film in print and electronic media...
Yes.  I am happy and excited. There have been some felicitations too.
What has been the response at CBIT (the engineering college where you shot the film)?
The film has helped CBIT in a way. It has enhanced the brand value of CBIT. Students want to join it. The response from professors too has been positive. I studied there and they did a great favour by allowing me to shoot on campus. It is a win-win situation.
There are eight main protagonists in the film and each character has a graph. Was it tough developing each character?
Writing for me is a creative thing. Some characters are easy to write, flows naturally, some don't.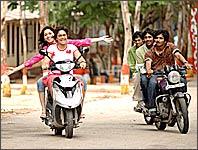 You have tread a safe path by not showing things like drugs, drinking, smoking etc...
Yes I wanted to do so. I did not want to show smoking, drugs etc. It is easy to wander off in a students' film. It was difficult doing so and I was conservative in this approach. Even the bit I show on guys seeing porn films, I showed it like a phase -- it helps in the narrative- it shows coming of age. In the kissing bit, I made it an issue and brought in the parents' angle. I showed the debate about what youngsters want and what parents want.
Characterisation is your strong point. How do you work on this? One character (Panduranga) was not well developed in the film. It was quite uncharacteristic of you...
Characterisation comes naturally to me. For me, characters are a part of story telling and I run through strong characters. That character (Panduranga) had a character evolving -- from a weakling, he grows up. But it had to be trimmed to keep the length of the film. So that's why it seems incomplete.
Some of the scientific experiments done by the character Tyson in the film were unrealistic and even weird. Why did you choose to show them?
Tyson is a scientist character who could do anything. He is a geek and could do almost anything. I wanted to give the character a light element and make him a lovable one. This appealed to the kids.
The second half of Happy Days is sentimental. The love element predominates everything. It looked as though the love life was the most important thing in the students' lives. Comment.
The first half was very lighthearted. It made the viewer wonder what did I watch. The second half provides the emotional element. I had to use drama to connect the viewer and make him involved with the film. The film has to have an emotional high. I did not touch on the political angle or the social angle, which are normally associated with student films. I had to dwell on something. The love aspect got me the moods. I wanted to get rid of the parents opposing children or the rich-poor divide.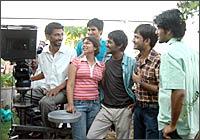 The character Tyson gives up his computer seat for his friend Shankar. Do you think this element of sacrifice still exists?
It does exist at a human level. It is to do with friendships. One person is forgiving in a friendship. Tyson is almost an idealist character and he feels happy with whatever he does,
You used the character Chandu as a sutradhar. Why did you feel the need to do so?
I needed the sutradhar to compress time. It (the narrator) is a good cinematic technique and it aptly worked for me.
Vijay C Kumar (camera) and Marthand K. Venkatesh (editing) have become a constant with you...
We have now become a team and we share a rapport. It helps a lot.
You were able to lace your film with messages and combine them with entertainment...
Messages were non-dramatic. A lot of things are interwoven. The underlying thread romanticises college.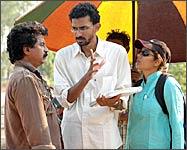 Komalini Mukherjee as the teacher was impressive in her cameo...
I could not think of anyone else but Komalini playing the role. She lent it grace. Every student (boy or girl) idolises a teacher (from the opposite sex) if not for good looks but for organised teaching. So it was a natural process of writing a college story. What the teacher taught helped the character Rajesh get a job later on in the film.
There are reports of big heroes like Nagarjuna [Images] and Mahesh Babu [Images] expressing interest to work with you...
It is good to know that. The challenge and responsibility will be in writing scripts for them balancing their image aspect and not lowering my standards. I need to get the right story. Nothing is finalised yet though.
What next?
I haven't decided yet.