Home > Movies > Reviews > Readers' review

Main Hoon Naa surpasses OSO

Abdullah Sidky | November 13, 2007 16:27 IST



Okay, let's face it. Farah Khan isn't India's most talented director. She is however, fully capable of providing the audience with unadulterated entertainment with logic nowhere to be seen. And when it comes right down to it, unhindered entertainment matters big time in Bollywood movies. Audiences absolutely love it. (How else do you explain the massive success of Main Hoon Na?)

The promos of Farah's latest offering Om Shanti Om seem to offer just that. Farah has tackled the subject of reincarnation that has been done many, many times in Bollywood, most of the time successfully.

Sadly, the only thing Farah Khan's [Images] Om Shanti Om has going for it is that it's a visually extraordinary film, especially in the first half and that's pretty much it's only asset. What is missing here is the intensity and power of the subject she has tackled.

The film starts out promising, with Shah Rukh Khan aspiring to become the next Rishi Kapoor [Images] and the splendid entrance of the magnetic Deepika Padukone. The 1970s film sets Farah has created is outstanding. There are several other plus points in the film throughout the first half. The tension between Deepika and her heinous husband (played by Arjun Rampal [Images]) is handled with tremendous maturity.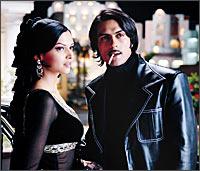 Furthermore, the bonding between Shah Rukh and his mom, as well as his aspirations to one day become a superstar is sure to bring a tear in your eye. The film seemingly had everything going for it at that point. The blazing twist just before the interval demanded interest and engagement from the audience, but despite its grandeur we have seen much more gripping fiery sequences in past films (last year's Vivah [Images] handled it much more enthrallingly).
Surprisingly, the post-interval sequences of the film are appallingly weak in terms of content and screenplay and not to mention its downright predictability. The reborn character of Shah Rukh is utterly childish and unlikable, and the series of reintroduction of the characters is rather banal, and lacks impression.
The impact, and the intensity of reincarnation and revenge is nowhere to be seen in Farah's film. The light and playful 31 stars song seems to take up most of the second half. The romance and intimacy between Deepika and Shah Rukh is nowhere to be found. The absence of a kind of amorous relationship between the protagonists, once again, lessens the impact of the revenge that is integral to the almost diaphanous plot. It is overshadowed by the redundant parody of Bollywood culture. It seems almost as if Farah started out with a great concept, but somehow became unforgivably lazy when it came to completing it.
The team of Om Shanti Om prior to its release had dispelled rumours that the film is a remake of Subhash Ghai's [Images] Karz. However, there are several integral aspects of the second half that bear a palpable resemblance to the 1980 reincarnation flick.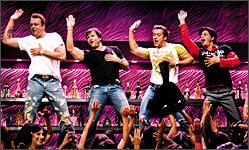 The climax song, for example, where Shah Rukh narrates his past life to Rampal is lifted right out of Ghai's film, down to its similar lyrics and the overall sequence of the song. Arjun Rampal's "Kaun ho tum?" during the climax scene is unmistakably akin to Simi Garewal's [Images] utterance of those exact haunting words during Karz's climax scene. It's no wonder Farah would get overly defensive when questioned about the originality of her film during pre-release interviews.
And now to the performances; not much to say here. Shah Rukh Khan [Images] has reached new-found levels of overacting in this film. You want to throw something at the screen every time he utters a ridiculously over-annunciated and corny English smart-alec line.
Deepika makes a remarkable debut. This girl can act. It's a shame that she's been trivialised and suppressed. Arjun Rampal masterfully fills the malevolent nature of his character in the first half and is just about ordinary in the second. The rest of the supporting cast is average.
To sum up, Farah had a brilliant concept in her grasp, but when it came right down to making it, the brilliance and the concept slipped through her fingers like sand. I regret to say that Main Hoon Na surpasses Om Shanti Om in terms content and even music. As for entertainment, like it was stated before, it was the promos that offered that. Maybe we can pretend and say that our expectations were too high.
Click here for More Reviews