Home > Movies > Interviews

The Rediff Interview / Nandita Das

'I don't believe in preparing for a role'

May 07, 2007


| | |
| --- | --- |
| Nandita Das in Moonnu Pennungal | |
| | |
| | |
| | |
| | |
| | |
| | |
Nandita Das, a favourite among the serious filmmakers of India was in Kerala shooting for Adoor Gopalakrishnan's new film Moonnu Pennungal. Nandita acts as Kamakshi, a spinster, in Nitya Kanyaka, a film based on the novel by Jnanpith award winner Thkazhi Sivasankara Pillai in 1945.
Shobha Warrier met with the actress on the sets of Nitya Kanyaka in Kuttanad and got her talking about her experience of working in an Adoor film, and the various roles she has taken on. Excerpts:
Is acting in an Adoor Gopalakrishnan film an exciting experience for you?
Definitely. I have seen many of his films and have been a great admirer of his work. He selects beautiful stories. The mood is very real and subtle in all his films. There is also something very quiet about his films.
You like these kind of films?
I like a couple of other genres as well. Very few filmmakers have kept up with the regional flavour like him. He is very rooted, at the same time very contemporary in his outlook.
Take for example this film; the story happens in the 1940s but is still very relevant even in today's world. As a woman, I can totally relate to the character and the story. It is not alien in that sense.
Do you feel since the characters in regional cinema are more Indian than those in Hindi films?
Absolutely. I feel there is more sanity and integrity in regional cinema. That is why I do films in different Indian languages. In fact, when we say regional, we are almost putting it down. I don't think the Mumbai film industry is the only Indian film industry.
In fact, if you see the Hindi films, which we call Bollywood films, they represent not even one per cent1 of the Indian population because it is all about south Bombay. Even within that, everything is abroad. I am not putting it down; I'm just saying there is space for that kind of cinema too.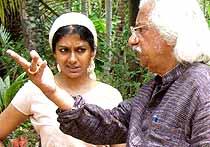 However, the painful fact is that the space for Indian language cinema is shrinking. We need to be sensitised about what is happening around the country and space is needed for this. Urban India is becoming more and more insular, uncaring to what is happening around them. That is why something like what happened in Nandigram failed to touch urban India.
The two feature films of Adoor's are based on Thakazhi Sivasankara Pialli's stories. Have you read any of his works?
Unfortunately, no. But I have heard of him. I got to hear about many regional language writers because of my mother, who worked as the director of the National Book Trust (now she is the director of National Gandhi Museum).
Unfortunately when you grow up in the north, you don't get to see enough films, and you don't get to read enough Indian literature. It is not that they are unavailable. It's just that you end up reading only English as you are educated in that language.
How did you feel when Adoor Gopalakrishnan offered you the role?
When he called me, I was surprised and honoured. Surprised because he doesn't take too many actors from outside Kerala. He told me I was only the second non-Malayali actor to have acted in his film. Earlier, he had taken Tanvi Azmi but he wanted a Kannada face then.
He told me that the film was based on Thakazhi's story. When I asked him about the script he told me it will be given only when I reached there. I believe nobody got the script.
When I got to the sets, I asked the other actors if they knew what parts they were playing and they said they told me they didn't know. Funnily, nobody knew the story except for me!
Maybe I am fortunate. Maybe he didn't expect me to ask. As an actor, you want to know what you are part of although I respect every director. They all have their own way of making films.
Do you prefer a bound script so that you could prepare for a role?
I don't believe in preparing for a role because I feel human emotions are the same. I feel if we intellectualise the character, the spontaneity will be lost, unless of course the character is beyond your imagination and experience. Maybe if the character is schizophrenic, I may need some preparation. But most of the characters I portray are normal human beings.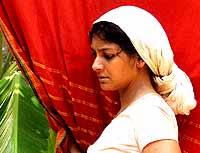 For example, the emotions this character goes through is the same everywhere. She may belong to the 1940s but the feelings are the same. I know how society looks at an unmarried woman like her even today; forget 1945 when the story was written. I can empathise with the character. It is within my imagination.
Yet I want to know what actually is the story. I like to know the entire story and not just my character alone. I want to know where I am placed in the context of the story.
I came to the location to meet him (Adoor) straight from the airport. Then, a Malayalam professor sat down with me and read the entire script to me. I also took down my dialogues with footnotes on what the others say and what kind of response I should give. If you see my script, you will see a lot of cues about reacting.
Acting is not about acting, it is about reacting. I have to do this when I am doing a film in a language I do not understand.
Is Malayalam a difficult language for you?
Oh! Malayalam is definitely one of the most difficult languages that I have done so far. I have done films in almost 11 languages. I also see that there are a lot of Sanskrit words. It's tough following what the other actors say because they speak it very fast. But it is worth the challenge. Working in a milieu like this and that too in a film by Adoor Gopalakrishnan is just a great experience.
Unlike many other directors, Adoor is one filmmaker who walks around directing each and every actor...
Yes, his complete involvement in the film is amazing. Most of the film is in his head, so it's a kind of one-man show, though he has a wonderful team with whom he has been working for so many years. I am sure there is an unsaid equation with everyone.
The day I came here, he was filming a funny scene. He must have worked on the scene for a long time yet you see him smiling and laughing as if it was something totally new to him.
Part II of the Nandita Das interview: 'I've become a spokesperson for the rural woman'