Home > Movies > Interviews

The Rediff Interview / Qazi Tauqeer

What Fame Gurukul's Qazi has been up to

June 28, 2007


| | |
| --- | --- |
| Qazi Tauqeer | |
| | |
| | |
| | |
| | |
| | |
| | |
Remember Qazi Tauqeer, the youngster from Kashmir who was one of the favourites in Sony Entertainment Television's reality show Fame Gurukul?
After winning the show in 2005, Qazi seemed to have disappeared.
After two years, the singer from Srinagar [Images] has re-surfaced. And he is a very angry man.
He tells Narendra Singh the reasons behind his disappearance.
What are you up to these days?
Nothing much. I am getting some offers to act in films. A few days ago, Nazim Rizvi, the man behind films like Chori Chori Chupke Chupke and Undertrial, offered me the lead role in his film Take Off. It's an action thriller and will be directed by Moses Kaushal. Talks are on.
Meet the showman from the Valley of Death
How much has changed after you won Fame Gurukul?
Obviously, I became famous after that. People started recognising me after I won the competition. The only dream I have is to get recognition through acting. Ekta Kapoor [Images] offered me a role in one of her serials but I was very focused on the fact that I wanted to do only films, not serials.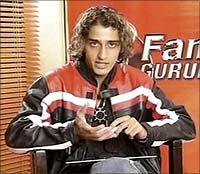 You also had a contract with Sony BMG. How was the experience?
The experience was very good. They supported me a lot. They gave me a platform in this industry and I will always be grateful to them. They got 20 percent earnings from my income.
Who are your friends in Mumbai?
I am a newcomer in Mumbai and don't know anyone here. I come from Kashmir and that too from such a zone in Srinagar where there is constant firing. I was there for 19 years. Because of my passion for singing and acting, I would learn both behind closed doors. I have decided that I will go to Kashmir only after I have made sufficient name for myself in the field of entertainment. I had gone to Kashmir once on the quiet because I was scared of being mobbed.
Do you meet your Fame Gurukul friends?
We hardly get to meet each other. I guess everyone is busy. I hope everyone fulfills their dreams. We had met each other recently at a party a while ago.
Your debut film, 30 Minutes, fell through.
This producer called S Chakravarty took me for a ride. After I won Fame Gurukul, I was nowhere to be seen. Have you ever wondered why? I want to tell the truth behind my disappearance. I don't understand the tricks of the trade.
I was signed by Chakravarty to play the lead in this film called 30 Minutes. At that time, I had also signed Bobby Khan's film opposite Sneha Ullal [Images]. But Chakravarty insisted that I should leave Bobby's film and do his film. Believe me, he took names like Rajnikanth [Images], Mithun Chakraborty, Suresh Oberoi and Nandana Sen [Images] and said they would be my co-stars.
He also said that the film would be presented by Rajshri Films and would be released all over the country with 600 prints.
He told me it was a sci-fi film and was to be done originally by Hrithik Roshan [Images]. I was told that I resembled Hrithik. I also did a photo session with photographer Mahendra Soni and Hrithik's personal make-up man James did my make-up. He gave me a look which resembled Hrithik.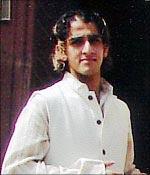 At that point, I also suggested that we hold a press conference so that people would know that such is film is coming up. But Chakravarty flatly refused, saying it will reveal my look for the film.
On June 25, 2006, we shot for a day and then again for a day in September in the same year. But after that, he kept postponing the shoot. It was only after wasting one and a half years that the film got shelved.
S Chakravarty is not a known name in the industry.
Yes. But the way he spoke to me never put me in doubt. He gave me a bound script and the required papers, which clearly mentioned my co-stars and the amount I would get after the film's completion.
Do you plan to approach court in this matter?
No. I have approached the media first and I am pretty sure that they will show the truth.