Silver Surfer takes over London Eye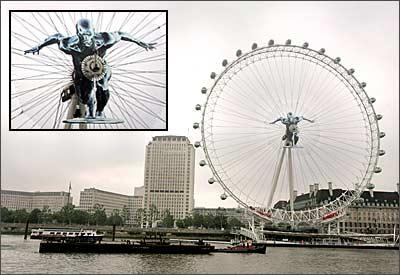 You might have seen the London Eye before, but look closer.
London's most popular tourist attraction, the eye is a massive ferris wheel -- and the world's largest observation wheel, giving visitors a bird's eye view of the entire city.
Right now, however, it belongs to The Silver Surfer, one of Marvel Comics' most striking superheroes.
The Surfer -- coming to theatres worldwide this Friday in Fantastic Four: Rise Of The Silver Surfer -- takes point of pride, right in the centre of the London eye.
Right now, the Surfer looks good. It's enough to make his nemesis, Galactus, frown.
Photograph: Getty Images