Home > Movies > Interviews

The Rediff Interview / Shefali Shah

'You'll come out feeling terribly sad for the Gandhis'

July 30, 2007



She wowed audiences with her power packed performance in Satya [Images] and Monsoon Wedding [Images]. And holding her own in Waqt: Race Against Time, which also starred Amitabh Bachchan [Images], was no mean feat.

And now essaying the role of Kasturba Gandhi [Images] in Anil Kapoor's Gandhi My Father, Shefali Shah is on cloud nine.

The actress talks to Swati R Chaudhary about her growing admiration for Kasturba Gandhi and lots more. Excerpts:

What prompted you to do a period film like Gandhi My Father?

It was a role of a lifetime! I was completely bowled over by the script. The minute I heard it, I told Feroz (Feroz Abbas Khan, director) that Ba (Kasturba Gandhi) was the best role in the film. It's an incredible film and is very special to me. Every heroine today would have given her right arm to do a film like Gandhi My Father.

Tell us about your character in the film.

I play Ba, Kasturba Gandhi, who has a pivotal role in the film. It starts from the time Ba is in her mid-20s till the time she dies. It's a Catch-22 situation for her where she has to choose between the two men she loves the most. And irrespective of whom she chooses, she is the ultimate loser. She is a simple woman in a complex situation.

Initially, Ba stands up for her son but when he transgresses all lines of integrity and honesty, she takes a stand, even if it means disowning her own son. She knows she has married an extraordinary man who leads an extraordinary life, which she respects and supports unconditionally.

What did you love most about playing Ba?

It's very difficult for a mother to disown her child even if he/she is wrong. I loved the way Ba could demarcate between love for her son and respect for her husband. That was just so intriguing.

Ba was very clear in her head. There was no read-in-between-the lines or a political angle to her thought process. She looked at things the way they were.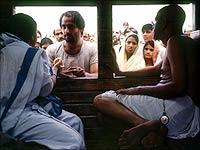 How did you prepare for the role? Did you read books or have you seen any documentaries?
There really isn't much documentation on Ba so I couldn't do a lot of research. But I indulged in lot of rehearsals and worked on my body language. Besides, Feroz didn't want me to read books since he wanted to keep things natural.
The most important thing for me was to thoroughly understand and relate to Ba's emotional pain and trauma rather than dealing with it intellectually. Because only if I could feel what Kasturba Gandhi went through, would I be able to portray it onscreen.
Which is your favourite Gandhi film?
I loved Richard Attenborough's [Images] Gandhi.  I think for a non-Indian to portray Gandhi with so much passion and integrity and that too so accurately, is simply admirable. 
Tell us about your get-up in the film.
The film obviously depicts an ancient era of oil lamps and khadi. In the 'younger' portions of the film, I am not wearing any make-up. That's the way it's supposed to be. It can't be made up. 
The older, ageing get up has a lot of make-up that would take two to three hours. Doing up the hair, wigs, prosthetics etc, was a time consuming process. But we had an amazing team of technicians.
I think I've never looked so beautiful. The way David (David Macdonald, director of photography) has shot the film is commendable. If I can look like that without make up, I think it's amazing. The idea was to make all of us look like real people and not actors.
Even in Waqt -- The Race against time, you looked old. Are you consciously doing such roles or do to think there's a dearth of roles for actors your age?
There isn't a dearth of roles because I'm playing my age in my other films. And I'm playing one of the central roles in all these films.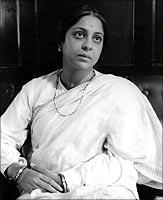 I took up Waqt and Gandhi My Father because they were very too special to be missed. I think as an actor it's always a challenge to experiment and play something that you're not. What's the point if I play Shefali in every film?
What is the USP of the film?
Filmmaking involves a lot of passion, hard work, thought process and money. But Gandhi My Father is a selfless film, a film made with complete selflessness. We all went beyond ourselves.
We have not 'acted'. We look like real people. I don't think anyone of us ever thought if we were looking fine or who acted the best. Everyone worked towards the film. That is the USP of Gandhi My Father. You wont feel like you're watching a film, it's just like taking a peek into a different time period. You'll come out feeling terribly sad for this family.
Is there something about Kasturba Gandhi that people don't know?
Bapu couldn't live without Ba and Harilal. Ba was a feisty lady. She could stand up to her husband and drive people up the wall if she wanted to. She was strong and audacious to say the least.
How was it working with veteran theatre personalities like Feroz Abbas Khan and Darshan Jariwala (who played Gandhi in the film)?
Right from the very outset, Feroz wanted me to play Ba. Everything else came later. To have this unconditional belief in an actor means a lot.
There were times when he really pushed me to do my best. I'd give a shot and he'd be like, 'give me a different version of this.' We would try 10 different ways of enacting a particular scene.
Gandhi is not an easy film. It takes a lot of grit and conviction to make a film like that. Feroz believed in the film and he patiently waited for it to happen.
As for Darshan, I've worked with him earlier. We both have a common theatre background. He has done a fantastic job in the film. He'll leave the audience spellbound with his performance.
Did you enjoy history in school?
(Grins) It was okay. I didn't mind it. But it was far better than chemistry and physics that I hated to the core.
One good reason for people to watch Gandhi My Father?
I don't want to request people to see the film. If they've seen the promos, I think they'll want to see the film themselves.
I don't think the film has a message or a moral in the end. That one should not lie, non-violence and the live and let live philosophy is something that's being propagated since quite some time. But I'm sure when you walk out after watching the film, you'll feel immense pain and that's when you realise the magnitude of the tragedy that struck the Gandhi family. And this tragedy was the price of a nation's freedom.
What else is happening on the professional front?
I'm doing Rituparno Ghosh's The Last Lear, Subhash Ghai's [Images] Black and White and Rakeysh Mehra's Delhi 6.