Home > Movies > First Look

Iron Maiden hire Bangalore palace for first Indian gig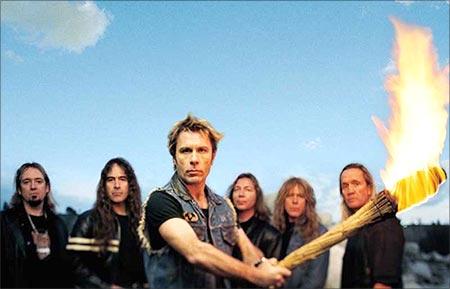 Following the success of it's new album A Matter of Life and Death in India, heavy metal band Iron Maiden has announced a series of headline appearances in March and June this year starting with the first gig at Bangalore.
The band has hired a palace for their first gig which is scheduled for March 17.
The event titled 'EDD-FEST' will be the first ever festival of sorts by the band, a spokesman from the promoters, DNA Networks said.
"The appearance on the bill of Britain's Lauren Harris will also be the first time Indian fans will see a rock band fronted by a girl," he added.
Nearly three decades after coming into the rock scene, the rockers have shown an inclination towards the Asian market after their album, A Matter Of Life And Death reached number two in the Indian charts.
The band will also be the first to bring in a massive western style stage production complete with backline equipment for this one show.
"To say we're all really looking forward to going to Bangalore is something of an understatement. It's very special to us to be able to play to new fans in countries we've never been to before," Contactmusic quoted band frontman Bruce Dickinson as saying.
"We are crafting a special set to include both songs from A Matter Of Life and Death and a load of other favourites," he said.
"Going right back to 1985 and tours behind the old Iron Curtain, particularly Poland, Maiden have always enjoyed blazing the trail taking metal to new fans all over the world," added band manager Rod Smallwood.