Photo: Priyanka's fairy look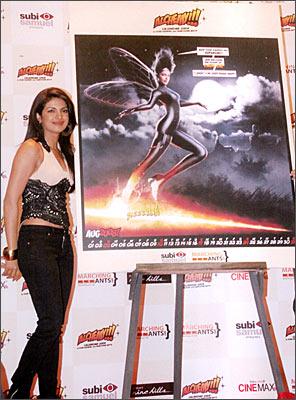 It is that time of the year when celebrity calendars start doing the rounds. The city's ace photographers showcase their best pictures, and often they pull off casting coups.
Subi Samuel seems to have managed it with his 2008 calender, in which he features 24 stars like Priyanka Chopra [Images], Abhishek Bachchan [Images], John Abraham [Images], Bipasha Basu [Images], Vidya Balan [Images] and Karan Johar [Images].
The stars made their appearances at the launch. Priyanka, seen here, strikes a pose before her picture in the calendar, where she looks like a fairy.
Photograph: Pradeep Bandekar