Home > Movies > Interviews

The Rediff Interview / Shyamaprasad

Directing Mammootty, Meera Jasmine

August 20, 2007


| | |
| --- | --- |
| Meera Jasmine | |
| | |
| | |
| | |
| | |
| | |
| | |
Shyamaprasad won the National award for the best regional film in 1998 for his film, Agnisakshi. The film, based on a novel of the same name by Lalithambika Antharjanam, had Rajat Kapur and Shobhana in the lead roles. The film also won among many awards including the Gullupudi Srinivas Memorial award (given to debut directors) and the Aravindan Puraskaram.
His last film Akale, based on the Tennessee Williams play The Glass Menagerie, also won several awards. In between he made an English film titled Bokshu the Myth with Irfan Khan, Nandana Sen [Images] and Heather Prete.
Following his tradition of making films based on novels, Ore Kadal too, is based on a novel, Hirak Deepthi by Sunil Gangopadhyay. Interestingly, the story was short listed by Satyajit Ray to be made into a film. However, Ray chose Aranyer Din Ratr by the same author instead.
His new film Ore Kadal with Mammootty, Meera Jasmine, Narain and Ramya Krishnan in the lead, is all set for an Onam release on August 26.
He spoke to Shobha Warrier about Ore Kadal and the experience of directing stars like Mammootty and Meera Jasmine.
Ore Kadal is based on the novel Hirak Deepthi by Sunil Gangopadhyay. How did you chance upon the book?
There is a Malayalam translation and somebody suggested that I read it. He said it was my kind of story.
What is your kind of story?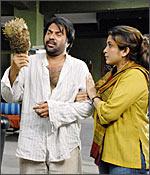 It is a story about relationships and a certain crisis that develops out of the relationships, and the right and wrong of it. It is these kinds of moral, ethical, emotional issues that really interest me more than crime, action and globalisation.
So, when I read the story, I immediately felt it was my kind of story.
It is basically a triangular love story set in the sixties in Kolkata about a man and a woman who discover love under very difficult situations. The novel was written in the 1970s. Apart from the time and place, it talks about universal human situations.
Have his values anything to do with the philosophy of the period he lives in?
No. I think it is a timeless issue. You can see it in any modern art in various stylistic frameworks. But it is essentially about a man who is constantly in search of true love that would give him total bliss.
Dr Nathan is a very well known economist who travels all around the world but leads a very lonely and isolated life. One day he meets Deepti, a middle class housewife who lives in the same apartment complex. They get into a relationship and also a lot of problems, which change their outlook on life. She is a married woman with a child but he doesn't believe in marriage or love.
What happens to this man and woman is the story. If I were to put it in a very crass way, we can simplify the story as -- they made love and then found love.
So, it is a physical relationship turning to an emotional one...
It is one blending into the other, and one leading to the other. The mind eventually gets involved. So, it is a very intense love story.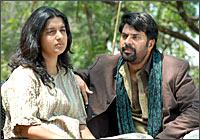 Is Deepti unhappy with her married life?
Not really, but it is not rocking either. There is a kind of ordinariness about her marriage which is there in every middle class marriage. There is a kind of mundaneness about it which makes her crave for something else. But nothing is explicitly told. At no point do we say there is some hardship in her marital life thought the discontent is there.
Is it because of the monotony?
Probably, yes.
Was it easy for you to transplant the story that took place in Calcutta in the 1960s to Kerala [Images]?
Yes. They are not the typical Malayalis settled in Kerala. I would call Ore Kadal an Indian film where the spoken language is Malayalam. The setting is unidentified. It's an urban milieu where two people who speak Malayalam meet and become lovers. Malayalam is only a language of communication in the film but they are not the typical Malayalis.
Does the economic situation of the sixties play any part in the thinking of the characters, mainly the economist?
Of course. Poverty is a major issue that is talked about. They get into a relationship out of a situation which is basically economic. Economy and the class divide play a part but then, the relationship transcends that. But economics and philosophy are subtle; what is essentially told is the human drama.
The economist's interest in the woman is primarily as a case study.  He is an observer into their lives but then he gets entangled. You can't treat a human being as a case study.
Of all the films you have made, is this the toughest because of the complex human relationships involved in it?
Not exactly. But the practical conditions of making the film make it the toughest. I have two big stars -- Mammootty and Meera Jasmine -- in the film.
Do you wish you had lesser known actors?
Yes. One felt that sometimes. But what kept one going was their desire to do something different. Otherwise, it is difficult. You can't just take a camera and follow them on the streets. I wanted Dr Nathan wandering in the streets at night and travelling in a night train which is not possible with Mammootty as the actor. He gets mobbed.
I wanted Meera to go to the market but we couldn't do that. One can't present people in their real ambience. That is the problem when you work with big stars.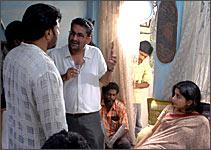 Why did you decide to have these two actors?
Because this is an actor oriented film and I need strong actors to handle that. I needed great actors who are also stars so that the film does good business. So, I chose the two finest actors in the country -- Mammootty, the winner of three national awards, and Meera Jasmine, winner of one. I also have young Narain who is an excellent actor, and Ramya Krishnan.
Who is Ramya Krishnan in the film?
She is Bela, a friend and soulmate of Dr Nathan. She is a socialite modelled after many socialites you see in urban India. She was raped when she was 15 and has had a very tough life. She also had a series of lovers.
She has travelled through difficult paths and became wiser and cynical because of that. Yet, she is also sensitive to human suffering, love and pain. She becomes a kind of sounding board to Dr Nathan. So, the two women he is involved with -- Deepti and Bela -- are contrasting characters.
You can also say Ore Kadal is the story of a man, who gets transformed by love. It starts with the man rejecting love, tenderness and commitment, and then he becomes mad for the values he once rejected.
Narain's character is the simplest one.
In the 1970s, there was an audience for the kind of films you make. But today, people do not go to the theatres to watch those kinds of films. Aren't you worried?
I am not worried but I am aware of it. It is also a fact that things are changing. Take for example films like Kazhcha and Thanmatra. It is a fact that both the films had one big star in them.
So, I feel if you tell a story which is visually impressive and emotionally engaging and powerful, and which people can relate to, I think people are willing to come to the theatres.
Does that make you look back at some of your own films like Akale and wonder what made them fail at the box office?
I feel I did justice to all my projects but I didn't have big stars in them. Akale couldn't have been done with Mohanlal or Mammootty. It had to have a younger actor like Prithviraj. Perhaps the films were not as engaging...
Shyamaprasad's photograph: Sreeram Selvaraj