Home > Movies > Interviews

The Rediff Interview / Venkatesh

Venkatesh is back with AMAV

April 25, 2007


| | |
| --- | --- |
| Venkatesh | |
| | |
| | |
| | |
| | |
| | |
| | |
Venkatesh is back after a brief hiatus with Adavari Matalaku Ardhalu Verule (AMAV). The star, who took a break after his super hit Lakshmi, is quite excited about his new film with Tamil director Selvaraghavan. He is paired opposite Trisha for the first time.
Radhika Rajamani caught up with the star and chatted at length on AMAV, which is slated for release this month.
The film has an interesting title. What made you sign it?
I found the title very interesting the moment I heard it. There was a lot of curiosity and interest among the public too when the film was announced.
The film is about being misunderstood. In many situations, women are not able to express their feelings and even if they do, they are misunderstood. But there is nothing preachy about the title.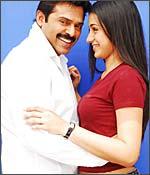 After doing many love stories, many of which were hits (Preminchikundamu ra, Kalisiundamu ra, Nuvvu Naaku Nachaav, Malleswari), doing another one at this stage of my career was challenging. But I was impressed with the way the director narrated the role of my character, which was realistic and identifiable.
Though the film has a women-oriented headline, the hero is not neglected...
Exactly. It has got to do more with the hero. It's a youthful and family-oriented film.
Is the title taken from a Telugu song?
Yes.
What is really exciting about the film?
The character I play is very real and my performance also is on a higher plane. The way the director has made us emote is a more realistic and natural. The expressions are not loud or artificial.
You won't find me suddenly breaking into a song and dance somewhere abroad and the music is natural with meaningful lyrics.
What inspired you to work with Selvaraghavan? Have you seen his earlier films?
Yes, I have seen his earlier films. His last film 7G Brindavan Colony was quite real. He has his own style of presenting the main character and I liked the way he extracted the performances from everybody. His handling of the camera is simple, very effective and intense. The love scenes in AMAV may be similar to other films but the treatment is simple and realistic.
You are perhaps the first big star to have worked with Selvaraghavan. What are his strong points?
His strong point is his clarity. He is very clear about how the hero and the heroine should express themselves. Also, there is no difference in the way he deals with us. He treats everyone equally. 
Could you throw more light on your role?
I play a guy who is trying to settle down in life, as most people of his age already are. The guy still asks his father for money and this angers the former. At this point, he falls in love and the movie captures his moods and feelings.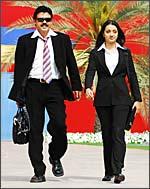 Do you don a new look?
No, it's a more natural look. In the beginning, you may find me looking slightly irritated and disinterested.
Is there comedy in the film?
Yes. There is a lot of humour.
What is your opinion on Yuvan Shankar Raja's music?
Yuvan Shankar Raja's music is already on the top of the charts and that will definitely boost the film. The songs in the first half are entertaining and visually appealing while the ones in the second half are more sentimental and meaningful. If the audience is ready for something fresh, this is the film for them.
You are working with Trisha for the first time...
It was a good experience. She is a thorough professional and has emoted very well -- very silent and intense. It will be a good change for her after doing all those commercial films.
Of late, quite a few Tamil directors have crossed over to Telugu. What do you think of this trend?
I never look at anything as a crossover. If they are comfortable working here, let them work. It's like us actors working in other languages. If one feels comfortable, one should go, explore and reach out to new markets.