Home > Movies > First Look

First Look: Ash practices dance steps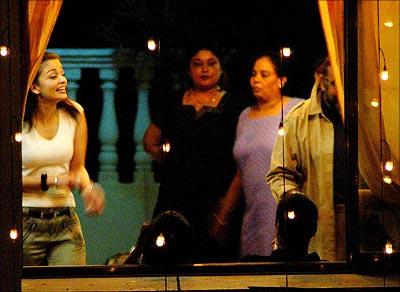 Now, that's how you shake the kajra.
Don't Miss: Ash-Abhishek wedding
While all is secrecy inside the heavily guarded -- and incredibly media-seiged -- homes of Aishwarya Rai and father-in-law to be Amitabh Bachchan, here's a rare sneak peek.
Also See: Ash's house, in lights
This photograph shows that the rumours are true, and Aishwarya will indeed be performing -- most likely at the sangeet, a musical event to be held at one of the Big B's Juhu homes, Prateeksha, on Wednesday, April 18.
When I danced with Ash's guards
Taken from afar, here we see Aishwarya at a neighbour's house, practicing dance steps for the big show.
It's going to be some spectacular night, that's for sure.
Photograph: AFP/Getty Images