Home > Movies > Interviews

The Rediff Interview / Nagarjuna

Nagarjuna: Still the Boss

September 26, 2006


| | |
| --- | --- |
| Nagarjuna | |
| | |
| | |
| | |
| | |
| | |
| | |
The handsome Nagarjuna is back with Boss, I love you. Paired with Nayantara for the first time, he plays the boss of a construction company, with Nayantara as his secretary. Boss... promises a bit of everything -- romance, action, music and dance. Despite being ill, the star spent a few minutes with Radhika Rajamani talking about the film. Excerpts:
How would you describe Boss?
It is a family entertainer with lots of fun.
How different is it from Manmadhudu?
It belongs to the same genre. Boss has more commercial elements, while Manmadhudu catered to a more niche audience. It was well appreciated by a certain section of the audience, but I needed more.
What made you sign the film?
I like films that relax me. I go to theatres to relax, not to get anxious. Boss is a feel-good film.
So, will it cater to the masses and the classes?
We hope it will. We tried to put in everything to make it gel.
If you were to point out the USP of the film, what would it be?
The feel-good element.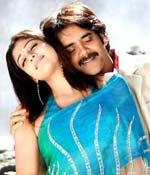 What was the transformation from playing a historical character (Ramadasu) to romantic hero like?
It was a little difficult in the first week trying to get these dialogues, as they were different. Ramadasu was pure Telugu. The mindset was different. But, within a week, I forgot it all. I don't much remember about Ramadasu now.
You have worked with director V N Aditya after Nennunnanu. What was that experience like?
V N Aditya is a team player. I believe team playing is what makes a film a success. A film is watched by lakhs of people, and if one person thinks he can make a film that is right for those people, that is wrong. I generally believe in team players. Aditya has done a fantastic job.
Does the film have layers?
No, it is a simple straight-forward film. There are a few layers towards the second half -- something like flashbacks -- used simply to remind the audience of what happened in the first half.
What is Nayantara like, as a co-star?
She is easy to work with and a thorough professional. She is a good actress who gets into the role right away, making life easy for everybody. She knows her clothes, her dialogues, her hairstyle -- so life becomes easy.
Was the character close to what you are like in reality?
Yes. Somewhere.
Could you comment on the look of the film?
It is chic, but up to the extent that people can identify with it.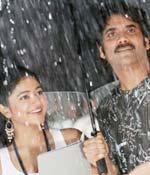 What are your future projects?
I am planning to do a film with Lawrence -- a nice action film -- and we start shooting in December.
What about a film with Sekhar Kammula?
We are working on it. I have to like the script, and it hasn't come to that level yet.
Was a large part of Boss... shot in Hyderabad, with the songs filmed in Austria?
A lot of scenes were shot in Malaysia, as that was required. Two songs were filmed in Austria, two in Malaysia.
You are riding a wave of success with your last few films. Is Boss going to be another feather in your cap?
(Laughs) I hope so.
Are you jittery now?
I am, but, somewhere in my heart, I know it is a good film. It will be liked. It has worked out well.


What do you think about the story?








Read what others have to say:





Number of User Comments: 7








Sub: nagu

nagarjuna is a good actor in telugu film industies and boss film is a good movie, storie is good.


Posted by Naveen









Sub: boss

nag is boss he is good actor


Posted by bhaskar









Sub: Big Boss

Yes Nagu Is Boss In Telugu Industry Srini Bangalore


Posted by srini









Sub: Nagarjuna: Still the Boss

Yah It's True.. Nag still the BOSS.. Music of the film is tooo good, energytic, peppy... I wish and hope Boss will be another hit ...


Posted by HariKrishna Manchana









Sub: Nagarjuna

I have always liked Nagarjuna as an actor. He brings lot of depth to his roles and gets into the skin of the character. Zakhm ...


Posted by Buzzy






Disclaimer