Home > Movies > Interviews

The Rediff Interview

Murugadoss excited about Stalin

Radhika Rajamani | September 15, 2006


| | |
| --- | --- |
| A R Murugadoss | |
| | |
| | |
| | |
| | |
| | |
| | |
Good news for Chiranjeevi fans. A R Murugadoss is almost ready with his mega-venture Stalin, starring the megastar and set for a September 20 release. It is, in a way, a litmus test for Murugadoss, who has tasted success with all his earlier films. Shot mostly in Hyderabad, with a few songs filmed in Austria, it also stars Khushboo and Trisha.
Stalin is an important release for Chiranjeevi too, considering his earlier venture Jai Chiranjeeva didn't have a good run at the box office. Taking a break from the editing room, Murugadoss spoke exclusively to Radhika Rajamani about the film and his plans for the future. Excerpts:
Are you satisfied with the way Stalin has shaped up?
Yes. I am confident it will be a hit.
In an earlier conversation, you told me it was inspired by the crowd that attended the 100-day celebration of Chiranjeevi's film Indra at Vijayawada. Is the film a slice of life? Does Chiranjeevi play an army officer?
Chiranjeevi's real image is the character, based on real life incidents. The army officer bit is just a flashback.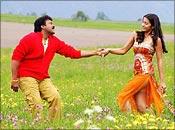 What was the process of filming Stalin like?
It was interesting. The Telugu film industry was new to me and I got to know the people and the work. It was as if I was on an educational tour.
Were you nervous about directing Chiranjeevi?
I was scared in the first week, but he put me at ease. In fact, he used to address me as 'Sir' and give me a lot of respect. That was humbling. He continued to address me in that manner even after I asked him not to. As he knew Tamil, he helped me with Telugu. He has given a natural performance, and Stalin will be a feast for Chiranjeevi's fans.
What about directing Khushboo and Trisha?
It was easy. Communicating with them wasn't a problem because they speak Tamil. Khushboo has a powerful role to play as Chiranjeevi's sister.
It seems Stalin is being released with 400 prints sold for a huge amount, a record in the Telugu film industry?
Yes. I am happy. I worked hard on this project, leaving my family in Tamil Nadu and living a bachelor's life. I couldn't even be near my wife when our son was born. I saw him only the next day. It is as if I have done penance for almost a year. I want the film to create a sensation.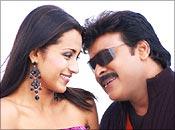 Are you nervous now that the date of release is near?
I am usually nervous but, with Stalin, all my nervousness has vanished in the post-production stage. I am waiting for its release.
You told me movies shouldn't be for entertainment alone, but should also have a message. What is the message Stalin wants to convey?
It is a message about how people should live.
After this, do you intend to move on to the Hindi remake of Ghajini with Aamir Khan?
In October, I will have a few discussions with Aamir Khan about adapting it, but actual filming will begin only in June 2007.
So, will you be taking a break then?
No. I am thinking about doing an action film (on the lines of Ghajini) that won't take too long to film. I am undecided about whether I should make it in Tamil or Telugu though.
Any long-term plans?
My ultimate aim is to make a movie in English, with Hollywood stars. I know it will take some time, but I am sure I will do it. My work in the Tamil and Telugu film industries is the journey. My Hollywood film will be the climax!


What do you think about the story?








Read what others have to say:





Number of User Comments: 8








Sub: STALIN

Stalin is very good picture, sure, it is change our society.


Posted by Srinivas









Sub: stalin

Really it is very good picture.


Posted by Srinivas Balasani









Sub: Good Luck Murogadass

i really like ur Ramana,Ghajini film in tamil. your really a good director !! im happy because Kollywood can produce top class directors like you.. ...


Posted by Nash









Sub: Blockbuster Movie

Dear fans, We pray to god this movie will break all the existing records and it will create sensation in tollywood.


Posted by Suresh Jangam









Sub: stalin will be Big hit

stalin will be Big hit


Posted by rcr






Disclaimer