Home > Movies > PTI

Big B takes House of Commons by storm, promises KBC2

November 09, 2006 15:19 IST


| | |
| --- | --- |
| Amitabh Bachchan | |
| | |
| | |
| | |
| | |
| | |
| | |
Fans of popular game show Kaun Banega Crorepati are in for a treat with its host superstar Amitabh Bachchan saying 24 more episodes are in line.
"Twenty-four episodes from the previous lot are pending. We are now talking to Star TV to see how we can complete these episodes. It will be done," Bachchan, in London as the brand ambassador for the International Indian Film Academy Awards, said in an interview on Wednesday. Asked how soon the serial would be resumed, the 64-year-old Bachchan said it was up to Star TV. "They are working it out."
He said Sarkar II was in the making and he, his wife Jaya and son Abhishek will feature in Pradeep Sarkar's next. About his role as Gabbar Singh in Ram Gopal Varma's proposed remake of Sholay, Bachchan said, "It is a challenging role. Let us see." With Bollywood planning a string of remakes and some eminent personalities criticising the trend, the superstar said, "We can't stop people from criticising. At the same time, we cannot say it should not be done. The remake of any film will add to creative enhancement. Whether it is good or bad is a different matter." 
Asked whether he planned to set up a film academy, Bachchan quipped, "I don't have the acumen to start an academy. I am barely managing to be an actor and I would like just to keep it to that."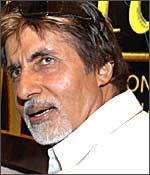 Amidst reports linking Abhishek Bachchan with his Umrao Jaan co-star Aishwarya Rai, Amitabh said he wanted his son to settle with a "good girl" of his choice. Asked about the prospect of Abhishek marrying Rai, the superstar quipped, "I have also heard about it. You should ask the people who spread the rumour."
He said all that mattered to him was that "it should be a good girl and it should be of his (Abhishek's) choice." On his experience of working with his son, Bachchan said it was quite good. "He is quite competent. At home we are father and son but when we are before the camera, we are two actors. On the sets I have never seen him as my son but as a friend," he said. Umrao Jaan, starring Abhishek Bachchan and Aishwarya Rai, released last week, while Dhoom 2 and Guru, both starring the couple, are awaiting release over the next few weeks.
Emphasising his role as brand ambassador of IIFA, Bachchan said, "I have come to talk about it, propagate the movement. It is good for the film industry and good for India. It is good for the host nation. It brings cooperation and brings communities together." He said he was happy that IIFA has been somewhat responsible for increasing interest in Indian cinema outside Indian shores. "I hope it continues, and we want IIFA to grow bigger and greater and bring about coordination and cooperation between the host countries and ours. Hopefully we will see it being quantified in the years to come." Asked about his company ABCL, he said it was "functional and operative."
Superstar Amitabh Bachchan took the British House of Commons by storm as he took centrestage with the announcement of IIFA Awards 2007. The eighth annual International Indian Film Academy Weekend and the IIFA Awards will be hosted in  Yorkshire for four days from June 7, 2007, he announced. Before taking the centrestage of the dining hall of the House of Commons, Bachchan, who was recently conferred a doctorate by Leicester University, had a separate meeting with British Chancellor Gordon Brown who described the Indian actor as "one of the most famous men in the world."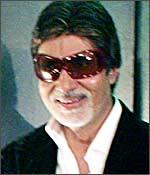 NRI MP and former British minister for Foreign and Commonwealth Office Keith Vaz said he was proud that Leicester University honoured him even before Delhi University, and he was happy France decided to confer the Legion of Honour on him. British Prime Minister Tony Blair, in a message read out by Minister in charge of Culture Tessa Jowell, said he was happy the next IIFA Awards would be held in Yorkshire, and that the two countries were jointly working together to promote Indian films. Present at the gathering were NRI Industrialist and British Ambassador for Overseas Business, Lord Swraj Paul, Indian High Commissioner Kamalesh Sharma, and scores of members of both houses of Parliament.
The IIFA Awards 2007 will consist of an awards ceremony, blockbuster world premiere, film festival, charity fundraising events, film professionals workshop and global trade forum. Tessa Jowell said next year the British Academy of Films and Television Arts would celebrate Amitabh Bachchan's works.
Addressing the packed gathering, Bachchan said it had been a wonderful journey since the launch of IIFA in 2000. He noted that about 50-60 years ago acting in films was not considered an honourable profession and many families in fact disapproved of their children taking to acting. "But today it is a matter of pride that he was being showered with love and affection in this august house," mainly because of the eminence and appreciation Indian films have earned.
Bachchan said, "IIFA is committed to taking Indian cinema across the globe. Cinema brings together people from diverse cultures for a shared experience, bridging the cultural divide. Using cinema as a key to open minds, the International Indian Film Academy believes bridges should be built across cinemas, businesses, communities and nations."
© Copyright 2006 PTI. All rights reserved. Republication or redistribution of PTI content, including by framing or similar means, is expressly prohibited without the prior written consent.



What do you think about the story?








Read what others have to say:





Number of User Comments: 10








Sub: Big B

Amitabh is a great actor but he has not acted in any world classic simply because Bollywood have produced none such movie till date!!


Posted by umesh









Sub: Big B

I completely agree with Rohit! When will we learn to appreciate one's work with a genuine and true heart! Mr.Bachchan has excelled in his profession,with ...


Posted by Preethi









Sub: Amitabh Bachchan is God of Indian Cinema

This man had entered the industry against all odds and his very first performance got him national award in 1969. Amitabh Bachchan is not just ...


Posted by Ravi









Sub: stands on committment

Big B is a great person whom we all have proud.


Posted by Manish









Sub: king of bollywood

god may keep you miles away from diseases.


Posted by ankit gupta






Disclaimer