Home > Movies > Interviews

The Rediff Interview

Looking for Ms Right!

Radhika Rajamani | May 31, 2006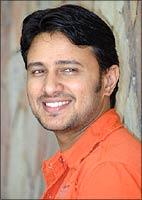 Raja shot to fame with Anand, although he made his debut with E V V Satyanarayana's O Chinna Dana.
After the success of Anand, a sweet, simple love story directed by Sekhar Kammula, Raja has carved a niche for himself in the Telugu film industry.
The first thing that strikes you about the ex-flight purser with Lufthansa, who liked theatre and found his final calling in acting, is his simplicity.
On the sets of director Indraganti Mohan Krishna's Maya Bazaar, in which he is paired with Bhumika, Raja speaks to Radhika Rajamani about his movies and himself.
| | |
| --- | --- |
| | More on rediff.com! |
| | |
On Maya Bazaar

When signing a script, I look at the director's credentials. I ask for a script and go through it a number of times and sign it if I am convinced. The film and the team -- producer, director and others -- made me sign Maya Bazaar. I couldn't have asked for anything better. If Anand put me on a certain platform, Maya Bazaar will give me a wider reach.

It's a great project. I can relate to it. I don't have to work much; I just have to be myself. The story is simple and believable. It's exciting to work on the film.

Director Mohan Krishna is a visionary. Bhumika is a great co-star. I have had a wonderful time on the sets so far.

On his early days

Right from my school days I was inclined towards theatre. As a student of St Andrews School, Hyderabad, I participated in a dance performance -- a fusion of classical and folk -- on one of the annual days. Film personalities like Akkineni Nageswara Rao and N T Rama Rao were present. I still remember the applause I got for the performance.

After my graduation I joined Lufthansa and though I was paid well and had all the luxuries, I was not happy. I wondered if I was going to do this all my life.

I quit the job and went to the US on a holiday. I joined the National Academy of Performing Arts at Miami, Florida, for a two-year course in acting. That stint was awesome. The exposure opened new arenas and cultures. I learnt a lot. I stayed on for a year on completion of the course and did commercials and plays.

With this foundation I hoped I would rock in India. I came to Hyderabad, went to Delhi and Mumbai. But I was disappointed. I worked with the theatre group Masquerade in Mumbai. I came to Hyderabad with the play Ask What Father Says and then I got a call from Suresh Productions to act. The project didn't materialise immediately, but I made my debut with O Chinna Dana. That set the ball rolling. Eventually I did Vijayam with Suresh Productions.

Films like Vijayam and Kala -- made under big banners -- plummeted. I did make a few mistakes. Though I was depressed, I never gave up hope. I switched to television and hosted a show.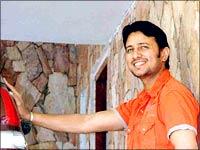 On Anand
Sekhar Kammula had seen me on TV. He met me at a restaurant and told me that I was the person he was looking for his film Anand. I guess I was at the right place at the right time.
The magic happened and Anand brought back the happiness in my life! In fact, while filming Anand, I always told Sekhar that he has a jackpot at hand.
I felt the success of the film was its simplicity. It was true-to-life and believable. Every character was well etched. The film had a good screenplay.
Subsequently, my career picked up. Films like Appudappudu, Arjun and so on followed.
On Bangaram
With Anand, I had reached the cities and towns but not the 'C' centres (rural areas). I looked at Bangaram as a promotional platform to reach the interiors of Andhra Pradesh. Also, the film had a star like Pawan Kalyan and a big banner, Suryam movies.
Pawan Kalyan is the most misunderstood person. He is a nice soul, he's well read. He told me: 'No matter what happens in life, don't stop living. Fame and glory will not last forever; just live life because you live it once.'
Director Dharani is super-obsessed with his work he is a workaholic. He won't eat or sleep for hours together. He has two extremes -- when he enjoys he's the most chilled out guy.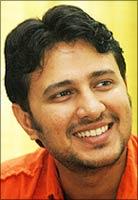 Raja, the person
I am not a party person. I like to go back home and play with my niece and nephew and spend time with my sister. I like to lead a simple life. I like to go for drives with friends. I am also a cinema buff.
Everything we do in movies is so unreal, so when I go home I want to live the real life. People do idolise actors and therefore listen to them. Actors have a lot of responsibility.
I have started an organisation called Jagruti along with Mr Mukund. Through Jagruti, we want to create awareness about cancer. We advise people, especially women, to go for periodic check-ups. We have extended help in the treatment of some patients. I feel we can be liberal with our giving – we can help in doing whatever is possible. I chip in with whatever I can -- mostly monetary help -- to help people in the fields of health or education.
On new projects
I prefer taking it easy -- doing a film at a time. I will be doing a film in Tamil (Kanna), and an as-yet untitled Telugu film with a new team.
I have my space in the industry; I have worked hard to get there. I feel blessed and am happy and content with what I have.
I am right now looking for the right woman in my life!


What do you think about the story?








Read what others have to say:





Number of User Comments: 2








Sub: good work raja

hi this is roopa i liked raja\\\\\\\'s work in Anand which i saw yesterday, so wanted to congratulate him on his good job.After reading his ...


Posted by roopa









Sub: Good Work Raja!

Hi My name is Bhavani. Recently I happened to go through some of the reviews o Raja, both on TV and Net. I really got ...


Posted by Bhavani






Disclaimer