Home > Movies > Bollywood News

Getting under Shiney's skin

Patcy N | May 09, 2006 19:22 IST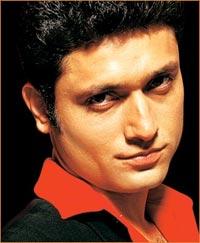 The last time I met Shiney Ahuja, he was delighted that his movie Hazaaron Khwaishein Aisi was releasing. He was eager to share details about the movie, and himself.
When I meet him now, post-Gangster, I half anticipate some changes -- which success inevitably brings in a person.
Not that Shiney Ahuja is arrogant now, but he is cautious about what he says. He sidesteps quite a few questions saying he doesn't want to be embroiled in any controversy. He says people know him because of his work, and not because of controversies.
He admits that after Hazaaron… he started getting decent offers. This year he has quite a few promising releases: Tanjua Chandra's Zindagi Rocks with Sushmita Sen, Mohit Suri's Woh Lamhe with Kangana Raut, Sudhir Mishra's Bahut Nikle Mere Armaan, Anurag Basu's Metro and a special appearance in Kunal Kohli's Fanaa.
| | |
| --- | --- |
| | More on rediff.com ! |
| | |
Most of the directors he has worked with have repeated him, be it Anurag Basu or Sudhir Mishra. It is evidence of the rapport he is able to create with his co-stars and directors.

How did he get the role in Gangster? Ahuja says when he approached Mahesh Bhatt for a role, Bhatt looked into his eyes and told him, 'We will go together a long way; we will definitely work together.'

Within two months, Ahuja had the Gangster offer.

He took up the role immediately -- because it was a Mahesh Bhatt film, because he would get to portray a range of emotions, and because he was offered the title role. Another factor in favour of Gangster was its director Basu, whose previous movie Murder was a big hit.

Ahuja says he looks at quite a few things before taking up a role: What the movie is about, how good his role is, who the director is and the banner behind the movie.

Then why a movie like Sins? Because it was based on a real life story, because he had a great role and because Yash Raj was distributing it, is Ahuja's answer. And no, he doesn't regret doing the movie.

The actor says he is not really bothered about shared screen time or malicious editing to chop his presence in a movie. "I am happy that Emraan (Hashmi) was in the movie," he says about Gangster.

"If Emraan is a more popular star than me, it is good for the movie. As many popular stars work in one movie it is that much better because they bring their fan followings to the theatre and the viewers for the movie increase."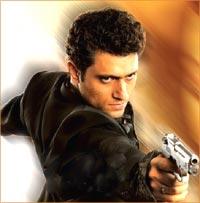 Ahuja says preparation for a role means getting into the skin of the character, but only as much as it is relevant for the story. "At the most I would think how my character would react in a particular circumstance," he says.
Once his character is clear in his mind, he says changes in script and screenplay don't matter to him, because he knows his character inside out.
About Kangana's accident, he says, "How many times was she hurt? I don't even know. Accidents do happen on the sets. I was also hurt on the set but I would not like to talk about it. We talk about all these things just for publicity. And I would not want to talk about all this for publicity."
He does, however, share anecdotes about shooting in Seoul, South Korea. Every evening he would see a lot of drunks on the metro station. But the cops would behave very nicely with them and would politely request the drunks to leave.
When Ahuja asked the police officers, they told him that the drunkards are onetime rich information technology workers who are jobless now.
In another incident, when Ahuja was sitting with makeup on – of his face bleeding and swathed in bandages -- there was another drunk man who was also injured, albeit in reality. When the man saw Ahuja, he took out an antiseptic cream and insisted on applying it on Ahuja's face!


What do you think about the story?








Read what others have to say:





Number of User Comments: 8








Sub: i love you shiney

hey shiney how are you cutey.you know something you looked cuter then Emraan in gangster.i love you .also you look good with the girl who ...


Posted by monica









Sub: You can even do best in comedy role!

Hello, Shiney I have seen ur :hazaron Khawahishin Aisi" but after "Gangster", it was good! Ur performance, as a new comer was quite good and ...


Posted by Mona PK









Sub: liar

shiney is not a liar he is actually a guy with those deep intense eyes they said it all in the movie gangster ........ i ...


Posted by sugandha









Sub: You are a first actor whom I am sending message in my life!

Hello! Shiney When I saw your Movie "Gangster" Ur performance enforced me to know about u. At that time, believe U me I did not ...


Posted by Mona PK.









Sub: Shiney you can outshine everybody !!!!!!!!!!!!!!!!!!!!!!

hi,Shiney!!first of all congrats on your gr8 per4mance in Gangster. U were simply superb.. the intensity in your eyes reflects a lot of your personality. ...


Posted by thameem






Disclaimer