Home > Movies > Southern Spice

Suman, the villain in Sivaji


Shobha Warrier | March 13, 2006 19:54 IST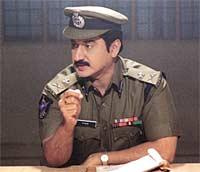 The Shankar directed Rajni starrer Sivaji continues to make news, although Shankar prefers to keep everything about it a secret. It was an open secret that there is a role parallel to Rajni's and as important as his. It was also said that this character was completely negative, that of the villain.
The first rumour was that Aishwarya would do the female lead. The role then went to Rani Mukherji! Many more names were discussed until it was announced that young Shriya would be Rajni's heroine.
Similarly, it was first rumoured that Amitabh Bachchan would do the villain's role. Then came the news that they were considering Mohanlal. He told rediff.com that he was indeed approached and that the role was quite interesting, but that they wanted bulk dates that didn't suit him at all. It was then Nana Patekar's name that did the rounds, followed by Prakash Raj's. Now, the filmmakers have finally confirmed the actor who is to play the villain -- Telugu star Suman.
46-year old Suman Talwar is an English graduate from Pachaiyappa's College, Chennai, and has been in the industry for the last 25 years. He has acted in more than 150 films. Other than his mother tongue Tulu, he speaks English, Sanskrit, Telugu, Kannada, Hindi and Tamil. He is a black belt in karate and also an expert in Kalari payattu, the traditional martial art from from Kerala. His debut film was Neechal Kulam in Tamil. In 2004, he campaigned for the BJP.
His most famous recent Telugu movie was Annamayya, where he played Lord Venkateswara. He is also playing Lord Rama in Sri Ramadasu.


What do you think about the story?








Read what others have to say:





Number of User Comments: 9








Sub: Why Suman

Hi Suman, I dont belive why you accept doing a negative role in Shivaji. As you are noted to be a very very good hero. ...


Posted by Bindu









Sub: Suman - Villan

Why Suman took such pathetic decision by accepting a villian role in SHIVAJI after he did a very positive Character (Rama) and a big success ...


Posted by Shrayes









Sub: sivaji

Today i saw in the Wed about Suman charector in Sivaji he is a good actor Good combination with Rajini and Shankar he should prove ...


Posted by VR.BABU









Sub: villian

Suman can be suited has hero going with villian dosent suits him at all.


Posted by Arshad Abrar









Sub: sivaji

dear sir ; i like to say suman is also good actor so shankar and rajini sir; is good choice only . iam also great ...


Posted by ashok.t






Disclaimer