Home > Movies > Columns > Aseem Chhabra

Why Brokeback lost to Crash

March 06, 2006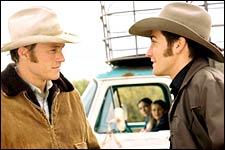 For movie lovers, Oscar watchers, and a lot of gay men and women, this has to be a night that will go down in the history as one of big disappointment -- almost at par with the night when John Kerry lost to George W Bush.
Brokeback Mountain was supposed to sweep the Oscars. Ang Lee's tragic and beautifully rendered love story (which just happens to deal with the love affair between two cowboys) seemed to have the Best Picture win locked. No other movie last year could match up to Brokeback's success and critical praise.
Ever since Brokeback won the top award at the Venice Film Festival in September (and since I saw the film in early September at the Telluride Film Festival), the buzz was very strong about that film – a groundbreaking story set in the vast, sweeping, visually stunning landscape of Wyoming (the film was actually shot in Alberta, Canada). It opened in the US in early December and the possibility of a Brokeback win seemed even more certain.
And Brokeback truly deserved to win tonight. For Lee's controlled and detailed direction; Annie Proulx's moving short story; Larry McMutry and Diana Ossana's strong screenplay adaptation; and its theme -- a romance between two men, like it has never been shown before in Hollywood.
It also deserved to win for Heath Ledger's quiet, devastating and heart-wrenching performance as a man left alone with his memories. Ledger is simply fantastic in Brokeback.
Unfortunately, Ledger was not going to win the Best Actor award. That was a sure win for Philip Seymour Hoffman for his equally well-deserved, but a lot more showy performance in Capote. The other sure win was for Hollywood's golden girl Reese Witherspoon in the role of June Carter in Walk The Line.
Then, a few weeks ago, a word started appearing in the press. A five letter word that spelt Crash. Just last week, Entertainment Weekly pointed out that although Brokeback had won the Golden Globe and the Producers, Directors and Writers Guild awards, it had lost one crucial race. The Screen Actors Guild award had gone to the ensemble team of Crash. And maybe, just maybe, Crash might win the Best Film Oscar.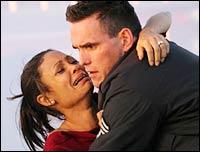 'Like a speeding Ferrari you didn't see coming, Crash has rammed its way into possible win territory,' the Weekly said. But the magazine's critics still maintained that Brokeback had a slight edge.
Then on Friday -- several days after the close of the academy's voting -- David Carr wrote a scary prediction in The New York Times, which unfortunately came true: 'But Los Angelenos, a good chunk of the Academy, have a crush on Crash, the parable of race and class that memorialises the city they drive through everyday.'
But Carr also said that if the Academy votes for Brokeback, it will demonstrate its tolerant and progressive values.
We will never know how many more Academy voters picked Crash over Brokeback. But this much is clear: While Crash is a fine and important film, in choosing Crash over Brokeback, the Academy members showed their conservative, safe and non-controversial side.
The Academy members may occasionally give Oscars to breakthrough performances -- such as Hilary Swank as a woman who wants to live like a boy in Boys Don't Cry, or Tom Hanks as a successful white man dying of AIDS in Philadelphia, or Charlize Theron as a lesbian serial killer in Monster.
And 37years ago, the academy did the most daring -- it gave the Best Film award to John Schlesinger's Midnight Cowboy -- another gay themed film. But today's Academy is mostly uncomfortable with a film that deals with real love between two men.
This is the same Academy that chose the worthy South African film Tsotsi as the Best Foreign Film -- over an even better-constructed and moving, but more controversial Palestinian film Paradise Now, which shows the human side of suicide bombers.
There were reported signature campaigns against Paradise Now among the pro-Israel lobby within the Academy. And that conservative wing of the lobby managed to get more people to cast their votes for Tsotsi.
There were some real important wins tonight. Taiwan-born Ang Lee was recognised as the Best Director not just for his masterful work in making Brokeback, but also for his long range of a most impressive and diverse filmmaking career.
Lee started with small indie films like Pushing Hands and The Wedding Banquet, but then he went on to direct films that dealt with American suburbia (The Ice Storm), English period drama (the brilliant Sense And Sensibility) and Chinese martial arts (the awesome Crouching Tiger, Hidden Dragon). Lee is also such a humble and a warm man. It was good to see him win tonight.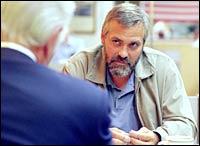 The Supporting Actor awards tonight were expected, but still very well deserved. The always smooth and charming George Clooney put on weight and looked dishevelled in Syriana. He carried the weight of the film on his back. And so did Rachel Weisz in The Constant Gardner. Weisz's character and performance was so important for the success of the film that one wonders why the studio did not promote her name in the Best Actress category.
I suppose Brokeback's supporters will get over the film's loss tonight. How many people remember the other big Oscar upset in 1999 when Shakespeare In Love beat a more deserving Saving Private Ryan?
There are a lot of Brokeback backers in the US and abroad, and we can still maintain it is a great film. It is a milestone movie in the history of cinema that broke a lot of barriers.
But in a democratic system there can be only one winner. Just over a year ago millions of Americans voted for Kerry, but eventually the other (and some might say the less deserving) candidate won.
Netflix delivers DVD rentals -- from $ 9.99 a month. No Late Fees, Free Shipping. Two week FREE Trial.
More Columns


What do you think about the story?








Read what others have to say:





Number of User Comments: 24








Sub: Why brokeback lost to crash

Recently i watched the two movies and i clearly see no doubt that crash won the best picture award. I completely with academy that it ...


Posted by Pavan









Sub: HOrrible article

Honestly, I dont know why you are taking about the oscars being conservative. Brokeback had its fair share of wins and Crash deserved its best ...


Posted by Tika









Sub: Safe, secure and wussie!

Almost everything this year was safe, predictable and conservative. Starting off with nominations where even Kiera Knightley (Pride and Prejudice) made it. Then, George Clooney ...


Posted by The Flaming Idiot









Sub: Its truly an academy !

While Brokeback maybe a "fine" movie, Crash is a "real" movie. Needless to say the themes should not be compared. Both movies have excellent cinematic ...


Posted by Soma









Sub: crash didnt deserve it.

i mean did you guys see the whole movie. the climax was extremeley bad. i didnt saw brokeback mountain but i still say that any ...


Posted by rocky singh






Disclaimer