Home > Movies > First Look

First Look: Bipasha's Laughter Challenge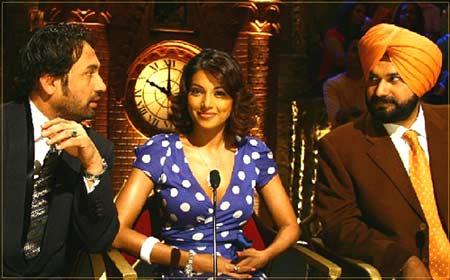 Bipasha Basu is having a good laugh.
The actress is the celebrity guest on the Mega Finale of the Great Indian Laughter Challenge Dwitiya, where an eclectic bunch of stand-up comics vie for the 'Hasi ka Shahenshah' title and a Chevrolet Aveo.
Theáseven contenders left in the final fray are: Khayali Saharan from Chandigarh; Rajkumar Javkar, Dr Tushar Shah and Rajeev Nigam from Mumbai; Pratap Fauzdar from Agra; Rauf Lala and the comic duo Ali Hasan and Irfan Malik from Pakistan.
Theáepisode kicks off at 10 pm IST on Friday, June 23, on Star One, where the lovely Bips is joined by enthusiastic anchors Navjot Singh Sidhu and Shekhar Suman.
Let the laugh riotábegin!


What do you think about the story?








Read what others have to say:





Number of User Comments: 9








Sub: hi

hi sexy bipasa i love u very mush


Posted by sumit









Sub: Hi Bipasha

Hi Bipasha I am your great fan. I like you very very much.your smile is so prity. I have one this. I want meet you ...


Posted by Afroz









Sub: hi

hi bipasha i am your best friend i love to you


Posted by isha









Sub: only message

ilike bipasha basu and siddhus cotetion and shekher speachalso


Posted by raja









Sub: Hot Laughter

Must be hottie laugh with Bold & Beautiful BIPS.


Posted by Bapi






Disclaimer