Home > Movies > First Look

Ash, Salman patch up?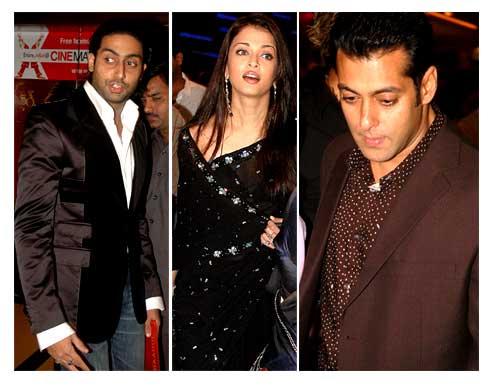 The impossible may have happened!

Looks like Aishwarya Rai and former boyfriend Salman Khan have patched up. Or at least come to a truce.

It all took place at the premiere of Baabul on December 6, when the film's cast, Salman, Amitabh Bachchan and Rani Mukerji, made a grand entry.

Ash -- who has made it a major point to avoid Sallu, films with him and all engagements the actor was attending, after they broke up four years ago -- surprise, surprise, looking very glam in black, came sweeping into the premiere.

The media nearly fell out of their chairs.

A source tells us there was a significant exchange of glances between Salman and Ash. Amitabh was standing by, probably as the broker of peace.

Salman was seen chatting with Amitabh and Abhishek Bachchan. Salman obviously gets along better with Abhishek than he did with Ash's previous beau, Vivek Oberoi!

Meanwhile, John Abraham, who also stars in Baabul, arrived at the premiere only after Salman made an exit. No doubt, there is no patch up on that front.


What do you think about the story?








Read what others have to say:





Number of User Comments: 49








Sub: what happened?

what happened between salu and john???


Posted by harpz









Sub: Sallu Bhai & Aishwarya Rai

Its very good see Both Sallu and Aish together, but not as a couple coz Salman & katrina's Couple "ROCK". Aish should stik to Abhishek ...


Posted by Daniya Imran Momin









Sub: ash,salman

Ash and salman will make a good pair and not abhishek and ash


Posted by farzana









Sub: salman dont maryy ash

salman


Posted by jahir









Sub: Ash Salman patch up

Hi Salman Do not run again Ash If shoe does the same......... do not loose your grip


Posted by Basha






Disclaimer