Home > Movies > Hollywood News

'Still very difficult for South Asian actors'

Aseem Chhabra in New York | December 01, 2006 17:09 IST



Life is sweet if you are Kal Penn. The Indian American actor has an important movie opening today, a teenage comedy, Van Wilder 2: The Rise of Taj. The film is a sequel to National Lampoon's 2002 hit Van Wilder, in which Penn, played an Indian exchange student at an American University -- a stereotypical supporting character called Taj Mahal Badalandabad. 

But four years and several major films later -- a lead role in Harold and Kumar Go To White Castle, a critically acclaimed dramatic performance in Mira Nair's soon-to-be-released The Namesake, and fairly visible supporting roles in Superman Returns, Son of the Mask and A Lot Like Love -- Penn's name now carries a lot more Hollywood weight. And so the new Van Wilder crowns him as the lead.  It is the stuff new actors, especially with immigrant roots, dream of.

"That is sort of the goal, to be able to do both comedy and drama," says Penn, 29.  "This (The Rise of Taj) is an important outlet in doing a teen comedy, and then a book adaptation by a Pulitzer winning author (The Namesake writer Jhumpa Lahiri) and an Oscar nominated director (Nair). It is wonderful to do both. But could I have imagined it?  I certainly feel very fortunate to be able to do it."

Son of Gujarati immigrant parents -- his father is an engineer and his mother a fragrance tester at a perfume company -- Penn was born Kalpen Modi in Montclair, New Jersey.  And while his career has taken off in a rather big way (just last week he was listed by People magazine as one of the sexiest American actors under the age of 30), he is the first to admit things are changing very slowly for other Indian American actors.

"Just because I have been fortunate in the past few years doesn't mean that there is a huge sweeping change taking place," he says. "On the contrary it's still very, very difficult for South Asian actors to break in. And that's kind of frustrating. When you read some of the (Indian American publication) articles, people assume that just because I have a movie coming out, it means things have changed."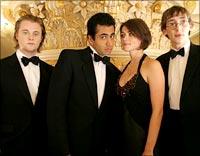 "I think that if we ignore the fact that it is incredibly difficult for Indian American actors then we grow complacent and we have so much opportunity to change things and encourage our kids to go into the arts," he adds. "But for most South Asian actors, it is still a struggle."
For the follow-up to the original Van Wilder, Penn was contracted to a sequel option by the film's producers. He took this opportunity to make changes in his character.
"My character in the first one was pretty much a sidekick, in some ways a stereotype even, and that bothered me off and on," he says. "You always try and make your character three-dimensional, but sometimes there are things in the script you cannot overcome."
"They said 'We want the second film to be a spin-off of your character,'" he recalls. "'We don't want him be a side kick like the first character.' I said 'Well good, I don't want to do another side-kick like that and if we do it, I want to redeem him as a human being.'"
"Four years later this guy has become confident," Penn says about his character, Taj.  "He is not assimilated, but it is not about assimilation, but being cool, because you are unique. It shouldn't have to do with him being Indian, but that he is cool because of his experiences. I get to take a character that was stereotypical and make it well rounded and in a really fun way." 
In the film, Taj heads to the UK for graduate studies.  There he encounters his nemesis, a relative of the royal family.  Naturally, Penn was able to add some jokes about British colonialism in India.
In one scene, Taj and his rival are fencing when the latter suggests they should settle the matter like his ancestors used to. "Taj's response is very confused," Penn says, as he breaks out laughing. "'What, you want to exploit me economically?' he asks. Of course, the Brit means that he wants to fence him."
"I personally don't believe that the accent makes something stereotypical," he says.  "I think when you have a character that is one-dimensional, with an accent, then it obviously contributes to him being stereotypical. When you have the cabdriver, who has 2 lines and is the butt of the joke, or the 7-11 owner, or the doctor with one scene and he is being made fun of: that's stereotypical." 
"But when you are talking about a character who is advancing the plot of the film, who has a love interest, he has a lot of friends, he is confident, you meet his family, he is studying history, he is not a pre-med major," Penn details, "these are things that are not stereotypical."
With a Harold and Kumar sequel in the works and two Van Wilder films in his pocket, Penn could be in a serious danger of being typecast as an actor in films popular with college, frat-party type young men.
"That is always with any actor when you do the same genre of films," he says, but then adds it's also exciting when audiences and fans are supportive, and enjoy the types of films he is doing.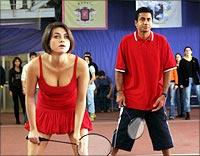 But there can also be the danger that an actor can get bored doing the same types of films over and over again. And so he is excited about his roles in The Namesake and the smash hit TV thriller 24.  
"I am not that afraid of being typecast, because from my experience I have been fortunate and it (Harold and Kumar) has been a launching pad," he says.  "So if I hadn't done these movies, I wouldn't have had the opportunity to do something like The Namesake," he says.
Some maintain that comedies like Harold and Kumar and Van Wilder represent the lowest form of American popular culture. Nair has stated that even though she is now a fan of Penn, she could barely sit through Harold and Kumar.  But Penn defends the genre of films that has given him a lot of credibility.
"I think there is an intrinsic value to every type of film," he says.  "I believe that even the lowest common denominator film, if it appeals to people, makes it art. Whether it is high art or low art is sort of irrelevant."
"And if we are talking about stereotypes of doctors v/s engineers, cab drivers v/s store owners, these types of films are oddly groundbreaking. Whether you agree with them is almost irrelevant."