Home > Movies > First Look

First Look: Phir Hera Pheri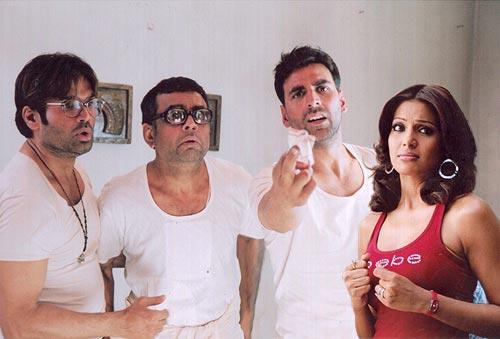 Question: What's better than three really funny men?
Answer: Three men and a babe!
It is with such infallible logic that Bipasha Basu joins the party in the much-awaited sequel to Hera Pheri.
While the original was directed by comic veteran Priyadarshan, this sequel is helmed by Neeraj Vora, who scripted the dialogues for both films.
In Phir Hera Pheri, the story begins with our flawed heroes having made a lot of moolah. But what to do with it? Despite Baburao (Paresh Rawal) and his strong protests, the cheeky Raju (Akshay Kumar) decides to invest their cash in a risky venture. Shyam (Sunil Shetty) is helpless, as always, as the trio get entangled in some fresh new chaos.
And Bips isn't the only addition to the cast. The hilarious Rajpal Yadav also stars in PHP, as another investor in the farcical financial scheme Raju falls for.
Phir Hera Pheri hits theatres on June 9.


What do you think about the story?








Read what others have to say:





Number of User Comments: 16








Sub: Cant Wait

I want to watch this film as soon as possible! cant wait till 9th june!


Posted by Garam Masala









Sub: i have kept myself free for 9 june to watch pher hera pheri

i have kept myself free for 9 june to watch this most awaited movie. i hope this will be real good movie as far as ...


Posted by girish









Sub: waitin fr it

dis will be a bigger hit with akshay in a much better position in d industry.....


Posted by alok









Sub: about film phir se hera pheri

hello sir, i want to know about some more about film :phir se hera pheri:and i want to know about role play by "bipasha basu" ...


Posted by umair usmani









Sub: 9th June??

Can it get released a little earlier?? Dying to watch it!!


Posted by Adhiraj






Disclaimer