Home > Movies > First Look

Akshay Kumar's new look!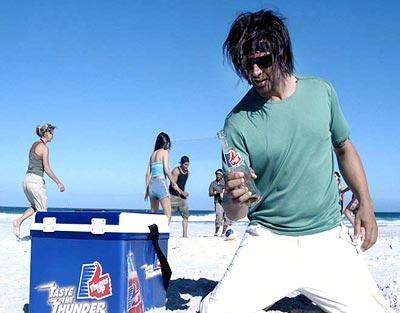 Not quite Garam Masala, is it?
Believe it or not, the shaggy-haired man in the green t-shirt is none other than Akshay Kumar.
A new-look Akki has shot for the Thums Up commercial in Cape Town, South Africa.
With music by Vishal-Shekhar, the commercial is set to hit television screens on April 9.
Let's see if audiences take to this new look.
Don't miss: Can Akki save Bollywood?


What do you think about the story?








Read what others have to say:





Number of User Comments: 14








Sub: u r best.

u look nice in anything. u r the macho man. just keep goining.


Posted by dhanashri









Sub: Akshay Rocks!!!

He defines HOT!!! This man surely knows how to get the girls go crazy. He was rocking in Humko Deewana kar gaye. He is just ...


Posted by tanu









Sub: ur the best AKKI

like ur films this ad too looking very kool. ur looking great in long hair.


Posted by nitin singh









Sub: Akki is too good

hi all i just saw akki's new look in Thumsup's Ad its just a inovative ad but not outstanding to make an impact on customer ...


Posted by sachin kadam









Sub: AKSHAY

hey dude u r just too COOL.......... no matter wat u do to urself you r just too smart to change ur style. you r ...


Posted by kinjal






Disclaimer