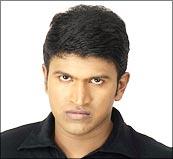 The countdown has begun for the release of the Puneet Raj Kumar-starrer Ajay, produced by the Kannada film industry's top producer Rockline Venkatesh. Puneet started his career as a child and even won a Best Child Actor award from the Karnataka state government. He is the third son of Kannada movie icon Dr Raj Kumar.
Ajay is a remake of the Telugu super hit Okkudu, which was remade in Tamil as Gilli, with Vijay as the hero. Ajay is directed by Mehar Ramesh, who directed Veera Kannadiga with Puneet as the hero. Unbelievably, all six films Puneet has starred in -- from Appu to his latest Namma Basava – have been box office hits.
| | |
| --- | --- |
| | More on rediff.com! |
| | |
Ajay is being described by the industry as one of the costliest films. The dashing young actor says his intention is to act in technically superior and top class films.
All your films have completed 100 days at the box office. Your fans are expecting a lot from Ajay. Does that make you anxious?
Naturally. When a film is ready for release, every artist goes through anxious moments. I really don't expect anything for myself, but my responsibility is to make my fans happy by delivering a superior and entertaining product. We have all worked hard towards that. Rockline Venkatesh, who is like one of our family members, is very particular about details. He doesn't want to take any chances and has spent a lot on the film. My first and second films, and last year's release Aakash, were all released on the eve of my father's birthday. They were all huge hits. Let's hope Ajay too will strike gold.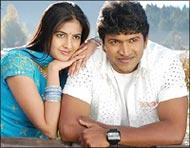 Most of your films have this 'A' fixation. Your next film is titled Arasu. Any particular reason?
When we were looking for a title for my first film, my elder brother Shivanna (Shivaraj Kumar) suggested Appu. He also suggested the title Aakash. When director Mahesh went to Shivanna to brief him about my new film, Shivanna suggested the title Arasu. His intuition has benefited my films.
Despite your success, you have not taken on too many films, unlike many of your counterparts.
It has something to do with my attitude. I am not as energetic as my elder brothers. Even in selecting stories, I take the help of my elder brother Raghu. Shivanna is also there for me. I want to be steady but, at the same time, I want to act in films of superior technical quality. I think Kannada films will have larger national and international appeal if we make high quality films and market them well. I have made a good beginning by getting Akash released in Australia, New Zealand and America.
Can you tell us a little more about Ajay?
Although it is a remake, I look at it as an original film, a new role. I have not seen the original Okkudu or its Tamil version completely. I saw just half and somehow didn't want to see the rest. I have great confidence in the judgment of Rockline Venkatesh, who has this knack of picking up the right subjects. We began shooting with a song in Italy. The film was shot in different locations. It will have a look that is quite different from other Kannada films.
It is possibly the costliest film of your career…
I really don't know or think about the budget, but Rockline has spared no efforts to make it a good film. It was great shooting with artists like Prakash Raj, as I could learn a lot from such veterans.
What is your role in Arasu like? I am told your father Dr. Raj Kumar may sing a song for it?
I play an affluent NRI who comes to India for a specific purpose. I would not like to say anything more now except that the film will have two heroines. We may start shooting from April 15. As for my father singing a song for the film, we are not sure yet. He wants to, and we will all be happy if he does at least one song, but it depends on his physical condition.