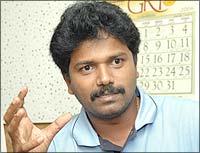 The first of Mani Ratnam's assistants to create a name for himself was engineer-turned-journalist-turned filmmaker, Susi Ganesan. His first film, Virumbigiren, represented India at the Kuala Lumpur World Film Festival 2003 where films from 39 countries were screened. His second film about five college friends, Five Star, was welcomed by critics but not by the masses.
After a gap of nearly two years, Ganesan is back with Thiruttu Payale, to be released on April 14. The filmmaker tells us more about it in between sessions of the final sound mixing.
| | |
| --- | --- |
| | More on rediff.com! |
| | |
It was with the success of Five Star that you became free of the tag 'Mani Ratnam's assistant'. How satisfying was that?
Even when I am doing my 50th or 100th film, I want to be known as Mani Ratnam's assistant only because you don't need anything more than that description. Even when I am doing my 50th or 60th film, if he asks me to assist him, I will gladly do it. If I am respected as a filmmaker today, it is only because I once assisted Mani Ratnam.
There is bound to be growth in every filmmaker's career. If that does not happen, you can assume one has failed as a filmmaker. If I have won four state awards for my first film – for Best Film, Best Director, Best Actor and Best Actress -- and a Best Screenplay award for Five Star, it is all because of training with Mani Ratnam. All credit for my success goes to him.
My CV will always start with that one sentence – 'Assisted Mani Ratnam!'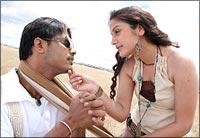 Tell us something about Thiruttu Payale.
It all began with me being introduced to Kalpathi S Aghoram (of the SSI group). He had then started a film production company and wanted to run it like a professional company. Handling film production like a business was a new experience for me but I enjoyed it thoroughly. I now feel I should have met him much earlier.
Was he interested in producing just the usual commercial films, or something different?
They want to make quality products. He had seen my earlier films and liked my style of filmmaking. When I met him, I narrated the story of Thiruttu Payale, which he liked it instantly. My idea was to make a small budget film with new people, like Five Star, but he wanted to make it a big project. He wanted a big heroine, so we decided to have Sonia Agarwal.  We also have Vivek. If Thiruttu Payale is a big project now, it is only because of him. It is he who asked me to go Australia and shoot there for 20 days.
What is it about?
Thiruttu Payal means 'naughty thief'. Every character in the film is a thiruttu payal. In other words, all characters have negative shades. The hero is Manikam, who represents present day youth. He isn't doing anything in life though he is not rich. I will call him a rogue.
The film is based on one concept -- that two things in the world are very powerful; money and sex. They are the reason for all the bad things that happen in the world. I want to say that you end up breaking the law when you deal with money and sex, but you will have to face the consequences too.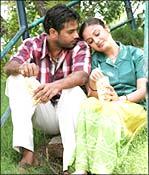 What does Sonia Agarwal play?
She plays a character called Rosy in the first part and Saranya in the second, but it isn't a double role. That is the suspense element. The villain is a woman played by Malavika. There is romance, action, comedy – everything.
So, you have all commercial ingredients. Is it a typical masala film?
I would rate my film much more than that! It is not a regular commercial film, but I have mixed in all the commercial elements. For example, we used belly-dancers for a stylish song. I have never attempted comedy in my films, but this one has Vivek doing a comedy track. There were no action sequences in my previous film either.
Were you pressurised to make a masala film?
No. There was no similarity between Virumbigiren and Five Star. I want to try different kinds of filmmaking. I do not want to confine myself to a particular style.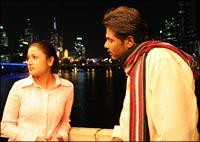 Do you feel it is important to make stylish, technically good films as moviegoers today are youngsters exposed high quality Hollywood films?
Yes. Even someone living in Tirunelveli is exposed to Hollywood films, and he expects Tamil films to be like that with good visuals, good sound and great effects. It is true that we cannot match their quality because we make small budget films. But we try our best. For example, for a fight sequence, I used a 9.8 lens normally used for just song sequences. I also shot the sequence like a song, with the fighters wearing designer costumes. There is a kind of distorted effect, and magic too. I can only do so much; I can't have effects like films from Hollywood do.
How did you choose Jeevan, who was a villain in Kaakha Kakkha, as the lead?
As I said, my intention was to make a film with newcomers, and it was the producer's idea to have known faces. Jeevan had met Kalpathi Aghoram earlier. It was he who suggested Jeevan's name to me. Since my character has lots of negative shades, I felt he fitted the role well.
Sonia Agarwal has a very glamorous role for the first time...
She has only had non-glamorous roles so far but, in this film, she even wears a swimsuit!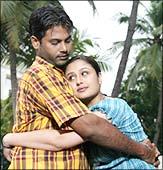 You introduced Prasanna to the Tamil film industry through Five Star. He is now recognised as a very good actor, and has bagged some good projects. Do you feel happy that your discovery is going places?
Of course, I am very happy that I introduced many new faces. These are the things that really make one happy. If you remember, it was I who introduced Sneha in Virumbigiren. In Five Star, all the main actors were new.
How anxious are you about the release of your film?
I am obviously tense. I haven't slept properly for the last few months. Tension will be there whether you are making a small film or a big budget film. But I am sure by the time the film is ready for release, I will be totally detached from it. Practising yoga helps you detach yourself and relax. I have done my duty sincerely. The rest is not in my hands.
Susi Ganesan photograph: Sreeram Selvaraj