Home > Movies > Bollywood News

Anupam to play Manto!

PTI | January 27, 2005 17:38 IST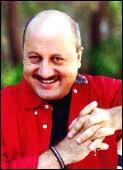 Actor and former Censor Board chief, Anupam Kher will play the role of the controversial short story writer Saadat Hassan Manto in a biopic titled Manto. The feature film, based on the life of the legendary and controversial writer, has been co-written by Pakistani writer Imran Suleman, according to industry sources. The screenplay for the film took over a year to research, and the international project involves a number of talents from three countries, India, Pakistan and the US.
"Manto is known irrefutably, the world over, as one of the greatest short story writers and certainly the biggest and most controversial in South Asia", Imran declared. "We owe it to his legacy to create a film that captures his greatest story," he said.
After a busy 2004 in England and the US to fulfill his international assignments, such as Tanuja Chandra's Hope And A Little Sugar, and scripting for The Return, Kher is now back in India to complete his domestic projects, including shooting for his films, the national tour of his theatrical play 'Kuch Bhi Ho Sakta Hai' and the launch of his acting school, `Actor Prepares'. Manto is scheduled for production this summer and is expected to be released by December this year.
© Copyright 2006 PTI. All rights reserved. Republication or redistribution of PTI content, including by framing or similar means, is expressly prohibited without the prior written consent.