Home > Movies > Message Board

October 14, 2004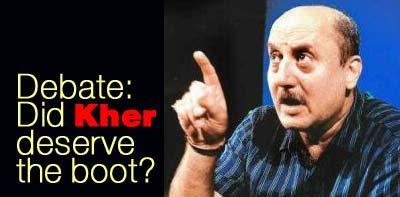 Barely a year after he was appointed chairman of the Central Board of Film Certification by the Vajpayee government, Anupam Kher was sacked on Thursday.
Kher has now threatened legal action against CPI-M General Secretary Harkishan Singh Surjeet who he believes is behind the Manmohan Singh government's decision to evict him from office.
But the new Censor chief has already been selected -- Sharmila Tagore.
What do you have to say about this controversy?
Do you think that Kher -- one of our finest actors -- deserved better, and should be retained as censor chief?
Should non political individuals be compelled to give up office just because the government has changed?
Or do think Kher deserved the boot because he should have resigned after the new government took charge?
This is your space! Tell us!


What do you think about the story?








Read what others have to say:





Number of User Comments: 184








Sub: He needs to change his attitude

I should say he deserved the boot, he is definitely a good , but being a chairman of a secular country needs something else.Did Mr.Kher ...


Posted by Kuber









Sub: kher desreves better

i feel anupam kher deserved much more than what he got, it was really sad to see him go.i sincerely believe in whatever he says ...


Posted by konduru









Sub: Well Done Mr. Kher. Please carry on your crusade.

Most of the messages of the people included in your 15-page e-mail folder indicate that Mr. Kher has done well. It does not need further ...


Posted by Dr. V.B.VARKHEDE









Sub: anupam kher

kher's is only one of several names in the laal jhandawallahs' long list, isn't it? perhaps someone should go into the performance of these people ...


Posted by hari









Sub: Mr.Kher's ouster as Censor Board Chief

Mr.Kher definitely does not deserve this kind of treatment.All the so-called Sharmas and pseudo-intellectuals-cum-liberals can go to hell.If a man can stand up against wrongdoings ...


Posted by C.Kartik






Disclaimer