Home > Movies > Bollywood News

Britney can't wait to be a mom!

rediff Entertainment Bureau | November 25, 2004 13:43 IST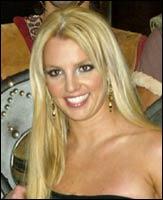 Britney Spears, even if she does say so herself, is allegedly growing up.
People magazine reports that the latest installment from Britney's letter to her fans -- something expected to tide the media and gossipy tabloids over till she 'returns' from her current hiatus --features her in full Thanksgiving spirit, paying tribute to her mom, discussing the virtues of cooking, and even her plans to have a baby! 
In supreme self-encouragement, the pop princess recently occupying headlines for tossing crisps and drinks at the paparazzi, boasts of her kitchen-table feats: 'Today, for the first time I made a roast with carrots, potatoes, corn and my favourite garlic bread. It was amazing, if I do say so myself!'


Spears' new letter is an ode to her mom, Lynne, her 'best role model,' amazing because 'she had her own way of doing things.'
Spears talks about Lynne's refusal to conform proudly, saying she wouldn't get 'corrupted into doing things like all the other women.'
Giving the 'role-model' tag more credibility, she writes, 'She would go to church every week like everyone else, but she always looked sexy in her black dress and she was the one all the other women would gossip about.'
Gushing about her life so far, Britney teasingly talks about her own pregnancy: 'I've had a career since I was 16, have travelled around the world and even kissed Madonna! The only thing I haven't done so far is experience the closest thing to God and that's having a baby. I can't wait!'
Spears ends her note by saying that spending more time at home has been a far happier experience than working. She concludes with a dedication to 'my mom and all of the mom's out there. What would the world do without you?'
Photograph: Getty Images


What do you think about the story?








Read what others have to say:





Number of User Comments: 2








Sub: Congrats ! Britney

Hi Britney, I always admired you. Nice to know that you enjoy family life. Once again Congrats for your motive in life its so full ...


Posted by Griselda Brass









Sub: Amazing Reply

Wow ! It was an amazing reply from her. She understood her way. All the best and Congrajulations.


Posted by Sunil






Disclaimer