Home > Movies > Message Board

May 12, 2004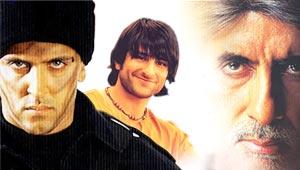 Which summer film would you like to watch?
The summer is always an ideal time to release big budget films. It's the time when either people are vacationing or are busy trying to get out of the blistering heat and into the cool confines of theatres!
This summer is no different, with a string of films lined up for release.
While Abhishek Bachchan's Run hits the marquee this Friday, Mani Ratnam's Yuva opens May 21. Other releases include Amitabh Bachchan-Sanjay Dutt-Akshaye Khanna starrer Deewar, Saif Ali Khan-Rani Mukerji starrer Hum Tum and Madhur Bhandarkar's multi-starrer Aan.
The exciting Farhan Akhtar-Hrithik Roshan combination in Lakshya is scheduled to release June 18. And Amitabh Bachchan will be seen in Govind Nihalani's Dev may be something to watch out for.
Which summer release would you choose? Tell us!


What do you think about the story?








Read what others have to say:





Number of User Comments: 32








Sub: Yuva!

Yuva of course! Mani Ratnam is one of the few directors in the current Indian Film industry whose name is synonymous with intelligent film making. ...


Posted by Vivek Sharma









Sub: Which film do you want to see?

well i would watch Harry potter, VAN HELSING, TROY, SPIDERMAN 2 and may be LAKSHYA and HIDALGO.


Posted by BADRISH









Sub: ''Dev'' - a must see for the BJP high command

Several of the relevant issues in present-day India like "nationalism", "communalism", "secularism" and "terrorism" are tackled head-on in Dev, for the first time. If BJP ...


Posted by Sunil D. Yande









Sub: Hum Tum Definitely!

Out of all the summer releases, Hum Tum might turn out to be a winner! Being a small budget movie in comparison to all the ...


Posted by Rishi









Sub: summer movies

i am surely going to see all of them but lakshya,deewar tops my choice of movies......


Posted by vinay






Disclaimer