Home > Movies > First Look

Run Abhishek run!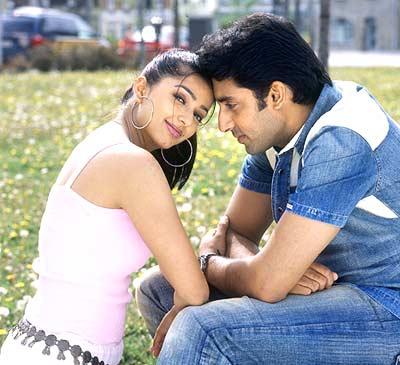 Boney Kapoor's production, Run, may not have a novel story. The plot revolves around Siddharth (Abhishek Bachchan) madly in love with Jhanavi (Bhoomika Chawla). But the peaceful love story is disrupted by Jhanavi's overprotective brother Ganpat (Mahesh Manjrekar).
We have seen this in Sohail Khan's Pyaar Kiya Toh Darna Na, where Arbaaz Khan stood in the way of his sister Kajol and the love of her life, Salman Khan.
But Run has an advantage. Its Tamil version, with the same name, was a blockbuster. The Tamil version starred Madhavan, Meera Jasmine, and Atul Kulkarni. Its cinematographer Jeeva directs the Hindi film.
Run sees the filmi comeback of actress Ayesha Jhulka, She plays Abhishek's sister.
The music has been scored by Himesh Reshammiya and the film is scheduled for a May 14 release.


What do you think about the story?








Read what others have to say:





Number of User Comments: 12








Sub: movie ''RUN''

Abhishekh is too good and he has improved a lot from his first Film Regugee. His looks has beeen changed form comletely slim to a ...


Posted by Nishit Desai









Sub: runnnnnnn

i really think the title suits to the movie coz people are gonna run to the theatre to watch this flick. i have seen the ...


Posted by djcool









Sub: remake

why don't these filmakers apply their mind. don,t they have any other plot to work on. just by making remakes films don't work. that too ...


Posted by mukul









Sub: abhishek

well, i would run because they just look borrring..


Posted by Spider









Sub: good wishes for the next running programme for A bhishek

I like all the songs and dances of abhishek & Bhumika in the flim.I think we will see a good and very sensitive flim this ...


Posted by tina






Disclaimer