Home > Business > PTI > Report


Would you like to see Indian stars in Pak films?

March 24, 2004 14:28 IST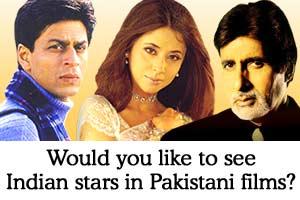 India and Pakistan peace talks are on an all time high.
Even the tone of the ongoing cricket series between the two neighbouring countries is friendly.
The Hindi film industry isn't far behind. Stars like Pooja Bhatt, Urmila Matondkar and Suniel Shetty are openly propagating the message of peace.
From anti-Pakistan action flicks, Hindi film scripts are making love stories spreading across the border. Take Yash Chopra for one. His new untitled film featuring Shah Rukh Khan, Preity Zinta and Rani Mukerji, is a love triangle about an Indian falling in love with a Pakistani who is already engaged.
So what next? Indian actors working in Pakistani films? Now there's a thought.
What do you think? Should they or not? Tell us. We would love to hear from you.
7333: The Latest News on Your Mobile!
© Copyright 2005 PTI. All rights reserved. Republication or redistribution of PTI content, including by framing or similar means, is expressly prohibited without the prior written consent.



What do you think about the story?








Read what others have to say:





Number of User Comments: 48








Sub: indian stars in pakistani films its very goooood

its very nice if indian stars work in pakistanis movies inshallah they r work in pakistani moveis .the cricket was a good start, now films ...


Posted by takhleeq lashari









Sub: think positive be positive

hi if they indian star worke in pakistani films thats good for both sids pakistani peoples wants to be full peace. There is good talent ...


Posted by amerta









Sub: indians in pakistani movies

i think that pakistanis need to change there cameras first first things first and stop copying other movies and take some decent actreses like iman ...


Posted by iki









Sub: about pak films

hi i am avneet from ludhiana.i think it is good that indian stars are roling in pak films.its good for our relations with them.when they ...


Posted by avneet









Sub: Should Indian Stars Work In Pakistani Films ?

Our Bollywood stars have ample of admirers all over the World and obviously from Pakistan also. With the adaptability of the improving technology the quality ...


Posted by Parag Chhaya






Disclaimer