Home > Movies > Message Board

March 13, 2004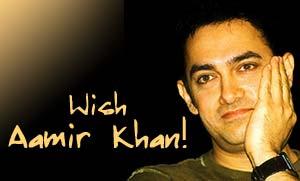 Aamir Khan. The man who, in recent times, was responsible for putting India on the map of the Oscar Academy members. He struck gold with his very first production, Ashutosh Gowariker's Lagaan.
He is undoubtedly one of the finest actors in the country.
On March 14, Khan turns 39. Join rediff.com in wishing Aamir Khan a very Happy Birthday!


What do you think about the story?








Read what others have to say:





Number of User Comments: 146








Sub: belated happy birthday

I know I did not wish you on the D'day. Sorry for the late. Anyway, many many happy returns of the day. I love and ...


Posted by archana









Sub: wish-amir khan

Aadab Amir, Wishing you a very happy b'de. all the best 4 ur future. n plz don't disappoint ur fans by choosing films like Mangal ...


Posted by soni









Sub: Happy Birth Day Aamir

I never met him but wish to do so. I just want to pay my heartiest wishes to Aamir on his birthday. May GOD grant ...


Posted by Seher Afsheen









Sub: HAPPY BIRTHDAY

This birthday of yours, I wish you become more cute than ever before. "I LOVE YOU"


Posted by Lalitha









Sub: happy birthday

hello sir, may u live long and make many more Laagan's and shine INDIA's name abroad ...


Posted by rince samuel






Disclaimer