Home > News > Columnists > Ashwin Mahesh

Wish Sanjay Dutt!

July 28, 2004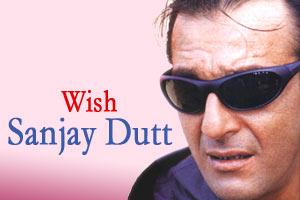 Bollywood's bhai will celebrate his 45th birthday on July 29.
Sanjay Dutt recently endeared himself to the masses yet again with his film, Munnabhai MBBS, playing his favourite role: a goon!
His latest film, Deewar, may not have fared well. But his next release, Mahesh Manjrekar's Rakht, is awaited with great anticipation!
Join rediff.com in wishing Sanjay Dutt a happy birthday!
Ashwin Mahesh


What do you think about the story?








Read what others have to say:





Number of User Comments: 15








Sub: It's bhai's B'day

Hi Bhai, Wish u a very happy B'day,may god bless u & give u everything u want from life.We all want to see u in ...


Posted by Pankaj Dixit









Sub: baba all the best wishes for ur B day

hopefully u will come up with many more gr8 perfermances.


Posted by rahul









Sub: happy birthday

hi sanju, wish u a many happy returns of the day. i am a big fan of urs. i love ur munnabhai mbbs very much. ...


Posted by meenakshi









Sub: Happy Birthday

It was such a shame to realize that you had very close connections with the under-world; esp. since people like you should be indebted to ...


Posted by M Nair









Sub: Happy Birthday bawa...

kya Bhai Happy Birthday bola..... bole to janam din Mubarak Boss like ur mamu wala role yaar great carry on & Wish u a very ...


Posted by Ritesh






Disclaimer