Home > Movies > Bollywood News

Michael Douglas' half-brother dead

rediff Entertainment Bureau | July 07, 2004 13:30 IST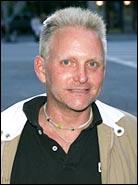 Eric, the youngest son of Hollywood veteran Kirk Douglas and half-brother of Michael Douglas, is dead.
According to E!online.com, the actor was found on the floor of his Manhattan apartment on July 6.
Eric, who turned 46 last month, always remained in the shadow of his Oscar-winning father and brother, while he battled against alchoholism. He also got into in trouble with the police several times.
Though there were 'no signs of foul play', and the death will be treated as a homicide until an autopsy is conducted.
Eric, who played minor parts in films like Delta Force 3: The Killing Game and The Golden Child, was Kirk's fourth child, the second son by his second wife, Anne Buydens. Kirk's other sons, besides Michael, are producers Peter and Joel.
Photograph: Scott Gries/ImageDirect/Getty Images
Click here for More Features