Home > Movies > Bollywood News

Who won? Who lost?

Arthur J Pais | January 28, 2004 09:32 IST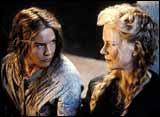 The much hyped Cold Mountain was a heavy loser at the Golden Globes, as was Big Fish. Both films, which are doing pretty well at the box-office, do not have to worry too much over their commercial fate as they have proved themselves as audience pleasers.
The Lord Of The Rings: Return Of The King proved the monarch at the awards as it snatched three Globes in significant categories, including Best Dramatic Picture and Best Director (Peter Jackson). The film, which has amassed nearly $900 million worldwide, was the fourth highest grossing film in America last weekend. In many countries abroad, it was either the first or second highest grosser.
| | |
| --- | --- |
| | More on rediff.com! |
| | |
The Golden Globes were given out on Sunday. Given out by the Hollywood Foreign Press, the awards are divided into two categories -- dramatic and comic films.

 

The wry comedy about the temptation of an extramarital affair, Lost In Translation, found itself in an enviable position at the Golden Globes. The second film directed by Sofia Coppola, it was voted the Best Film in the comedy section. It also fetched for Bill Murray, who plays a washed out Hollywood actor drawn toward a lonely and much younger married woman during a Tokyo sojourn, the Best Actor Award.

 

Sean Penn won the Best Actor for his role in Mystic River. He played a bereaved father who takes the law in his own hand to punish the alleged murderer of his young daughter.

 

While Mystic River, which has been running worldwide for more than three months, has grossed a decent $100 million, Lost In Translation has also done pretty well. The Coppola film, made for $5 million (Mystic River cost $35 million), has grossed a strong $45 million worldwide. It is yet to open in many countries. Coppola was also honoured for her screenplay with a Golden Globe.        


Diane Keaton, whose career has been resurrected by Something's Gotta Give, in which she falls in love with a wild Romeo (Jack Nicholson), received a Golden Globe for Best Actress in a comedy. She thanked director Nancy Myers and for creating a romantic film about people over 50. "With hope as our light at the end of the tunnel, we made our unlikely alliance work in the name of love at any age," she said.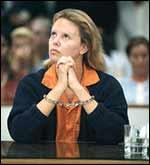 Charlize Theron won the drama actress honour for the gritty serial killer drama Monster. It is the first significant award the actress has won in her short Hollywood career.

Though Clint Eastwood's gripping murder mystery drama Mystic River lost out in main categories, it won a second Globe in the acting category. Tim Robbins, who plays the anguished friend of Sean Penn in Mystic River, and who is suspected of murder of Penn's young daughter was named Best Supporting Actor.
Renee Zellweger received the Supporting Actress award for playing a tough young woman who befriends Nicole Kidman waiting for her lover to return from the Civil War fields in Cold Mountain. She took home her third Golden Globe. Last year, she took one for Chicago and one three years ago, for Nurse Betty.

The first film to come from Afghanistan after the Taliban were driven out of power, Osama, won the Best Foreign Language Film Globe. It tells a poignant story of a young girl who, under the harsh Taliban regime, poses as a boy so that she could help her mother go to work. Women were forbidden to leave their homes unless a husband or a male relative accompanied them.
Click here for More Features