Home > Movies > Message Board

January 27, 2004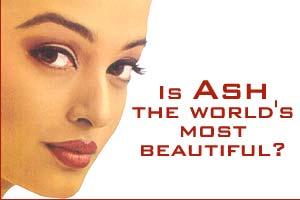 Aishwarya Rai won the world over with her 1994 Miss World title.
Since then, this light-eyed beauty has been considered one of the most beautiful women in India and abroad. Not only has she been featured on the cover page of Time magazine, she has topped quite a few polls about being the most attractive actresses.
In a local tabloid, Ash was described as a 'triumph of artifice' with deep lines on her neck, a flat nose, wide mouth and big teeth.
Are the reams of copy devoted to her looks justified or is it just our obsession with fair skin?
What do you think? Tell us. We would love to hear from you!


What do you think about the story?








Read what others have to say:





Number of User Comments: 320








Sub: Ash

Fair Skin 5 8 height green eyes splendid physical apperance definition of beauty? Is this physical apperanace the most beautiful thing in the world.Then we ...


Posted by geetha









Sub: loving

i dont like others actrees only like and love with kirti reddy


Posted by allll









Sub: Ash is not beautiful ..

does coloring the hair and wearing some exposing clothes makes world's beautiful ? real stupid .. wat does she have? nothing, only her eyes looks ...


Posted by sarvana kumar









Sub: Reply to questions of beauty

Well, I personally think that beauty lies within, then why are we all fighting before nothing if Aishwarya is beautiful or not. In fact, as ...


Posted by Mridu









Sub: Do Say This

No i will never agree,who decided it and why,she is Average and not so beautiful that we can say she is beautiful women on earth ...


Posted by shabir






Disclaimer