Home > Movies > Oscars 2004 > Features

Keaton vs Theron at the Oscars

Arthur J Pais | February 28, 2004 15:21 IST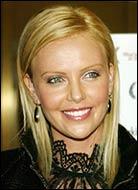 Charlize Theron has made a killing, winning practically every major award in America and abroad, including the Berlin Festival. But many Oscar voters may overlook her awesome performance as the serial killer in the arthouse hit Monster and go sentimental and vote for Diane Keaton.

Keaton won Best Actress Oscar 25 years ago, for the Woody Allen hit Annie Hall. Her new film, Something's Gotta Give offers a heartfelt, funny and luminous performance. Her radiant personality in this romantic comedy brings an awesome change in the life of the 60-plus Jack Nicholson who thought he would never date anyone older than 30.

Keaton, 57, has another advantage in the Oscar competition over her rivals. Her film, which has grossed about $125 million in North America, is the most popular of the five films nominated in the best actress category. Monster grossed only around $28 million.

Another independent hit, Whale Rider, fetched a nomination for teenage sensation Keisha Castle-Hughes. The film ended its American run with a strong $20 million gross a few months ago. Samantha Morton is strikingly sensuous and tough in the Irish import In America that is ending its run with a $14 million gross, unless an Oscar lift gives it a new life. Ditto for the harrowing but life affirming 21 Grams, which has fetched Naomi Watts an Oscar nod, which is inching towards a $14 million gross.

Also, Keaton hasn't had a hit since the 1996 smash The First Wives Club, which had brought her an Oscar nomination. She was also nominated for an Oscar for Reds (1982) and Marvin's Room (1997).

Most of the major reviewers in America and England, where Something's Gotta Give is a big hit, are raving about her work.

'Diane Keaton, looking smashing at 57, lands her sexiest, wittiest role in years as Erica Barry, a divorced playwright who has learned to do without men,' writes Peter Travers in Rolling Stone. 'Keaton nails every laugh and nuance in this tart, terrific romantic comedy from writer-director Nancy Meyers. She steals your heart and the movie. It's a pleasure to watch her co-star and pal Jack Nicholson hand her the show,' he adds.

In England, where the film has grossed over $10 million in two-and-half weeks, the box-office has remained steady. 'Diane Keaton is a continuous, quizzical delight as she turns their affair into a play. Her performance is as good as her best work with Woody Allen,' writes Philip French in the British newspaper The Observer.
***
Few distributors could be in a more enviable position than Newmarket Films. The tiny New York firm has two Oscar nominees in the Best Actress category: Charlize Theron for Monster and Keisha Castle-Hughes in Whale Rider.
And now, the boutique distributor has hit gold with the release of Mel Gibson's The Passion Of The Christ.
The controversial drama that opened to more than $15 million on Wednesday, could earn about $90 million in its first week, unless there is a dramatic attrition in its collections in the coming week.  

Photo: Getty Images
| | |
| --- | --- |
| | Article Tools |
| | |