Home > Movies > Oscars 2004 > Features

Pre-Oscars: What the stars are upto

rediff Entertainment Bureau | February 27, 2004 15:25 IST



What do the star nominees do on the eve of the Oscar night? Here are some celeb spottings, as reported by People magazine: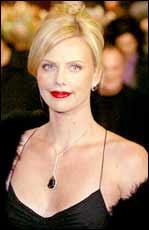 Tim Robbins (Best Actor, 21 Grams): He believes in work to soothe any nerves. He is now in New York rehearsing for the off-Broadway play, Embedded. He also directs the play.
Ben Kingsley (Best Actor, House Of Sand And Fog): Now, here is a jetsetter. He was shooting for Mrs Harris in Los Angeles. He then flew to Chicago to make an appearance on Oprah Winfrey's popular chat show, Oprah.
Charlize Theron (Best Actress, Monster): She's got the nerves but she is ignoring them. Winner of the BAFTA and SAG awards for Best Actress, expectations are sky-high for her. At the moment, she told People, 'I won't think too much about Sunday night,' and is shooting for a television commercial in Los Angeles.
The actress was spotted at Il Sole, an LA restaurant, ponytailed and sans makeup. Apparently, she had to wait 15 minutes for a table. She was with two male companions.
Naomi Watts (Best Actress, 21 Grams): This Britain-born Australian actress who is now dating Heath Ledger, was spotted at an LA soiree at Soho House, in Hollywood Hills. She could have been there because her makeup artist, Patti Duboff was the guest of honour at the do. Duboff will pretty up Watts on Oscar night.
Pretty wheels
Apparently, stretch limousines are out. Keisha Castle-Hughes and Diane Keaton (Best Actress nominees for Whale Rider and Something's Gotta Give), and Best Supporting Actress nominee Marcia Gay Harden will make their entries in a low-emission Toyota Prius on Oscar night.
The Toyotas are courtesy the environmental group, Global Green USA. They are stocked with eco-friendly eats: nuts, bars, water. No alcoholic drinks though -- an eco-friendly beverage hasn't yet been invented.
Photograph: Getty Images