Home > Movies > Message Board

February 18, 2004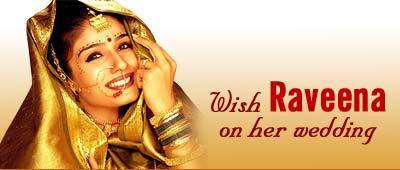 The Mast mast girl has finally found the man of her dreams.
Raveena Tandon will wed her Stumped! distributor Anil Thadani on February 22 in Udaipur.
Like her colleague Karisma Kapoor, who turned to television after marriage, Ravs will also soon make her debut on Sahara Television with the teleserial, Sahib Biwi Aur Ghulam, based on Guru Dutt's film.
Join rediff.com in wishing Raveena Tandon a very happy married life.


What do you think about the story?








Read what others have to say:





Number of User Comments: 45








Sub: congratulations

hi rav, sorry for late congratulation to you for your marriage & thandani. if u give your marriage only 1 photo with your husband to ...


Posted by vaishali









Sub: keep it up girl

i am not wishing you just bcos u r a celebrity, i happened to see ur many interviews and past 3 years i have got ...


Posted by sharmila prabhu









Sub: Happy Married Life

Hi Raveena, This is your friend wishing you & your husband " Happy married life ".Enjoy your new life & always be smiling it looks ...


Posted by vinodsandhya









Sub: i am happy

hi dear raveena its grt to know that u r going to marry. i am so happy and i n my family wish u a ...


Posted by sachin agarwal









Sub: Congratulation

Hello Ravs, Wishing you a very very happy married life. ..........


Posted by Hetal






Disclaimer